The Blockchain for Saudi Vision 2030 Summit took place on Monday, February 7, in Riyadh, Saudi Arabia. The event was hosted by the BSV blockchain's international association in partnership with ThinkTech, an initiative by the Saudi Arabian Ministry of Communications and Information Technologies.
The summit was attended by global industry leaders and focused on the use cases of blockchain technology within Saudi Arabia, as well as how the unique potential of the BSV blockchain can help to realise 'Saudi Vision 2030', the government's multi-pillared plan for digital transformation in Saudi Arabia.
The Blockchain for Saudi Vision 2030 Summit in Riyadh attracted prominent blockchain and industry experts from a variety of sectors, as well as representatives from several companies working in partnership with the Saudi Arabian government across key digital transformation projects.
Speakers included Dr Basim Zafar, Chairman at Experts Vision Consulting; Dr Khalid AlShathri, General Manager of Emerging Technologies, Communications and Information Technology Commission (CITC) of Saudi Arabia; and Jimmy Nguyen, Founding President of BSV blockchain's association.
If you missed the Blockchain for Saudi Vision 2030 Summit in Riyadh, we have summarised the event below.
Recap: Blockchain for Saudi Vision 2030 Summit
The power of value versus the power of information – Ahmed Yousif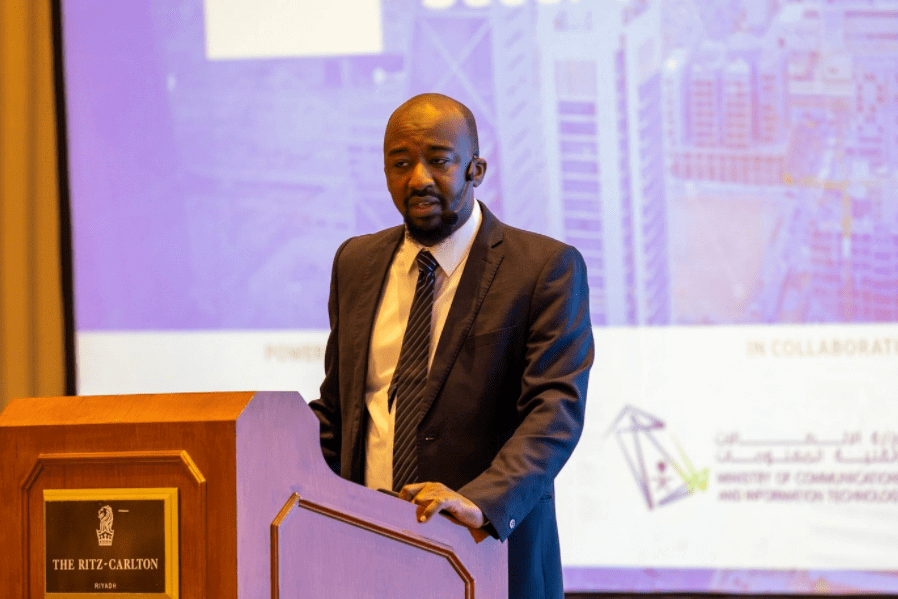 The event began with a welcome address by Ahmed Yousif, Middle East lead for the BSV Blockchain for Government initiative and Co-founder at Black Stone Data Solutions. He began by introducing the concept of the BSV blockchain, detailing its utility and scalability when compared with other blockchain protocols such as Ethereum and Hyperledger, as well as traditional payment networks like Visa.
He also spoke about how the BSV blockchain enables the transfer of value along with information, which opens up new business opportunities and use cases while providing auditability, an immutable record of events and a scalable, stable protocol.
'The BSV blockchain can be described as a value exchange protocol, because for the first time we can send value with this data,' Yousif said.
'BSV is not here just to tell you how data will be transferred. The ambition is to disrupt the way we have used to transfer information and add to that a way to transfer value.'
Blockchain and BSV: A new world of data – Jimmy Nguyen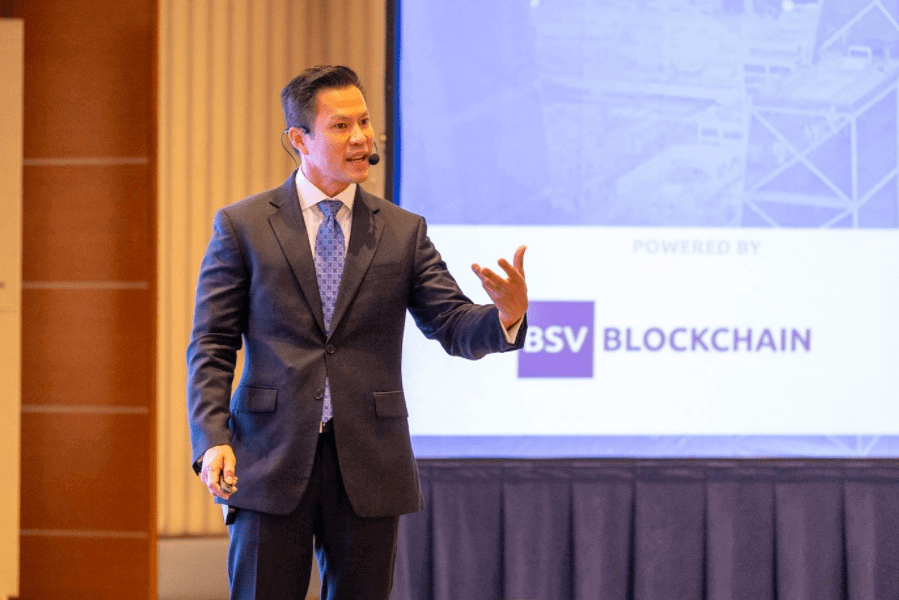 Next up, Jimmy Nguyen, Founding President at BSV blockchain's association, took the stage. His presentation focussed on the key use cases of the BSV blockchain and how it can revolutionise the way we interact with and manage data. Nguyen also spoke about 'Saudi Vision 2030' and how the BSV blockchain can provide the infrastructure to enable a new world of data.
'Data is the new oil, and as a nation that has built its prosperity on oil, today we're going to take you through a journey of how this will be your new oil powered by blockchain technology,' Nguyen said.
'We live in a world with so much data… Over the last two years, 90% of the world's data has been created.'
He went on to speak about how this would continue to grow and how the value of this growth in data can be harnessed through the BSV blockchain and used to deliver solutions that enable unprecedented efficiency and unique new use cases.
Nguyen also spoke about the history of data and the importance it has played throughout human history. Since humans began to record numbers, extracting value from data has been a powerful practice across the world that has enabled continued leaps in productivity and efficiency.
If we are to fully leverage the potential of blockchain technology, it is important to view it as infrastructure, he said, the plumbing that provides the scalable and powerful backbone to a new era of connected data services.
'Blockchain is just plumbing. You hear about a lot of the excitement of blockchain with investments and digital assets. We view it as infrastructure: the data plumbing that will power our world, just like today you don't think about the things that happen underneath the plumbing of the Internet.'
Nguyen concluded by noting the BSV blockchain's data network protocol's relevance to IPv6 and how these can be integrated to create a better Internet of value, as well as the major node software improvements coming in the near future that will deliver a massive boost to transaction throughput.
Blockchain for the digital transformation of Saudi Arabia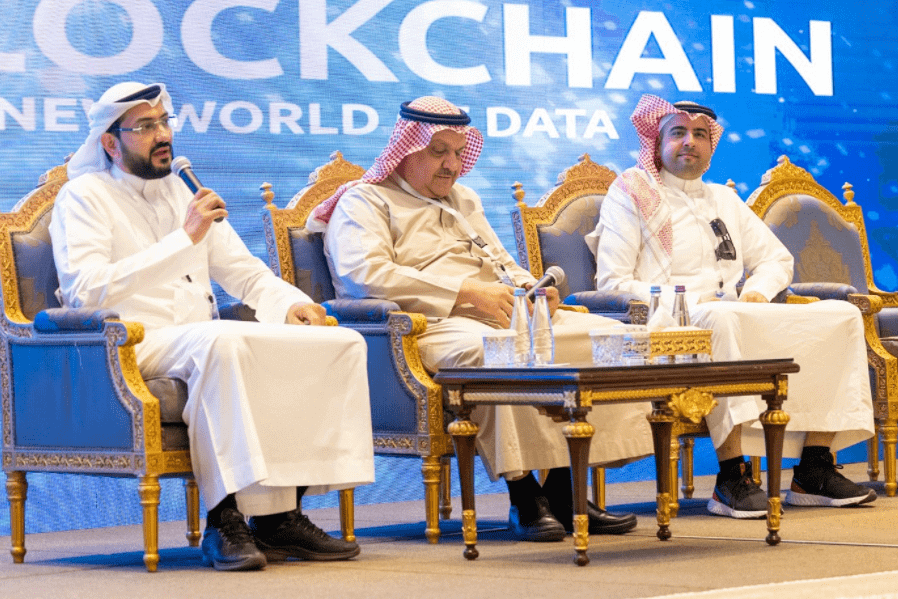 Nguyen remained on stage to chair a panel discussion on Saudi Arabia's plans for digital transformation and the role blockchain technology will play in the 'Saudi Vision 2030' initiative.
The panellists were as follows:
Hisham Hammami – Chief Information Officer, confidential company
Dr Basim Zafar – Chairman at Experts Vision Consulting
Waleed Alasmary – Association Professor, College of Computing and Information Systems, Umm Al Qura University
Following a brief round of introductions, the speakers began to discuss the government's various projects related to digital transformation and the key problems they think blockchain could solve in the region.
Hammami explained that Saudi Arabia holds a unique opportunity for blockchain and smart contract applications in its tourism industry and the collection of data from Hajj and the travel of pilgrims.
'To really take Hajj and the service of pilgrims to the next level, you need data gathering. If you collect data the traditional way, it is really not verifiable in a proper way, especially because your customers are from all over the world. So we want to take that to the next level,' Hammami said.
Alasmary mentioned the potential applications of blockchain technology to enable a full digital transformation in Saudi Arabia.
'To have a fully tech government, we definitely need a blockchain. Is that needed now? We don't know but we have to start looking at that. But certainly we can have a blockchain for everything and then after that we can measure them somehow. It is coming, but we don't know when,' he said.
Blockchain for digital transformation: Journey around the world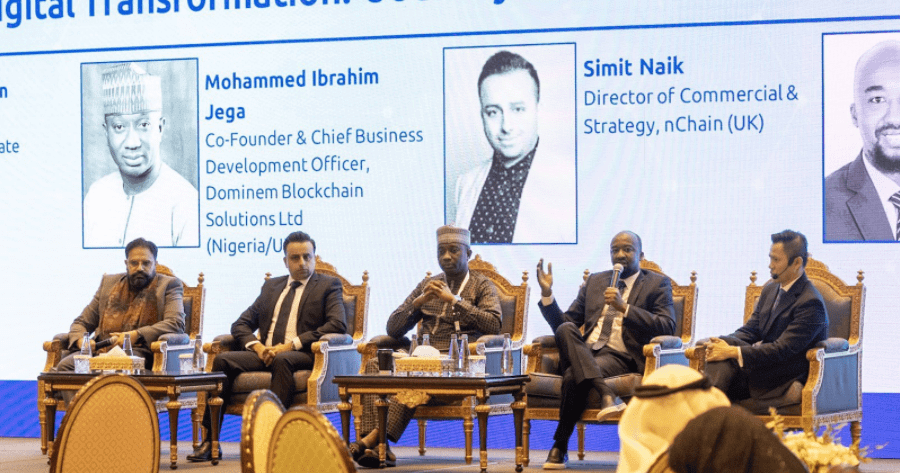 Next up was a panel discussion on blockchain's enablement of digital transformation around the world, chaired once again by Jimmy Nguyen.
The panellists were as follows:
Muhammad Salman Anjum – Chief Mate, InvoiceMate; Head of BSV Hub, MENA/South Asia
Mohammed Ibrahim Jega – Co-Founder & Chief Business Development Officer, Domineum Blockchain Solutions Ltd
Simit Naik – Director of Commercial & Strategy, nChain
Ahmed Yousif – Middle East Lead, BSV Blockchain for Government
The speakers began by introducing themselves and their respective blockchain-based initiatives, including everything from blockchain-based invoice management and cargo tracking to the development of the underlying BSV blockchain infrastructure.
Yousif spoke about the utility of blockchain technology and how the field of government services based on blockchain is growing rapidly.
'There is little R&D done in the area of government services on the blockchain, because it's in its infancy, but there are very successful use cases that are starting to take off.'
The discussion then moved to the necessity of storing certain data on-chain, and when it is prudent to store information off-chain and write corresponding records to the digital ledger. Anjum demonstrated how this can improve critical data integrity by citing his company's partnership with the Sindh police department in Pakistan.
Naik also gave an update on the Tuvalu National Digital Ledger project, detailing the island nation's plan to digitise citizen identity and create a paperless economy in the country.
'The goal of the digital transformation programme is to make Tuvalu a paperless society. And so, when we think about society and the kind of information and data we collect, we have split the project into two phases. The first phase is focused on digitising government registries and the second part is the digitisation of the economy,' he said.
Blockchain for health, human resources and other personal data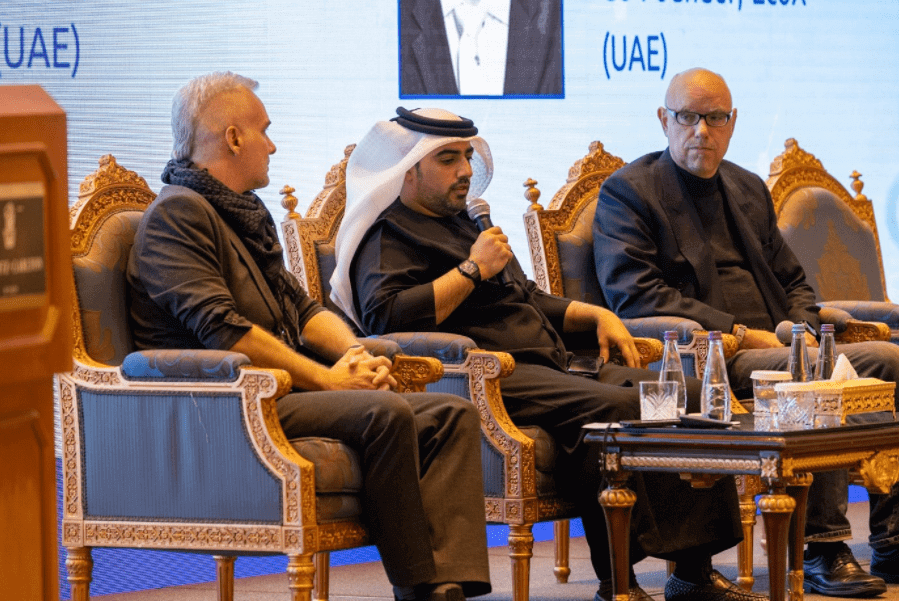 Another panel discussion followed, this one moderated by Muhammed Salman Anjum and focussed on how the BSV blockchain can be applied to health, human resources and other data.
The following speakers participated in the panel:
Justin Pauly – President, VXPASS
Saeed Mohammed Ali Alhebsi – Advisor in AI & Senior Project Manager, UAE Ministry of Human Resources & Emiratisation
Jorge Sebastiao – Co-Founder, Global Blockchain Organization; Co-Founder, EcoX
The speakers introduced their ventures and relationship to blockchain technology before exploring the topic of its applications in the fields of health and human resources.
Pauly prefaced the panel discussion with a presentation explaining VXPASS, which offers verified health records on the BSV blockchain and has rolled out a Covid-19 vaccine record product across a number of countries to ensure reliable and secure vaccine records. He stressed the importance of data sovereignty and privacy, noting that the VXPASS platform ensures patients retain control over their data.
'We never, ever put personally identifying information on chain. This is critical, as we believe health information is the purview of the patient and the government only. We can research these records as they are pseudonymous on-chain, so it is of tremendous value to international organisations,' he said.
The conversation then moved onto blockchain strategy in the Middle East, with Alhebsi explaining the UAE's ambitious blockchain strategy, which consists of three pillars, as well as the rapid progress the country is making in this regard.
'In 2018, the government announced the blockchain strategy – this is built on three pillars: improving government efficiency, the creation of industry and becoming an international leader in blockchain technology. Last year, our government announced that 50% of their transactions were processed on blockchain technologies,' he said.
When implementing blockchain-based data management and storage solutions, there are several regulatory hurdles. Sebastiao explained that a public blockchain can provide a lot of power and utility to its users while also addressing these obstacles, enabling them to choose when and how their personal data is shared.
'Trust means it is not just about the information being valid, but also the user controlling who has access to what data. Through the potential of the digital wallet, the user will have the rights to determine what data is accessible to whom and how.'
Fireside chat – Dr Khalid AlShathri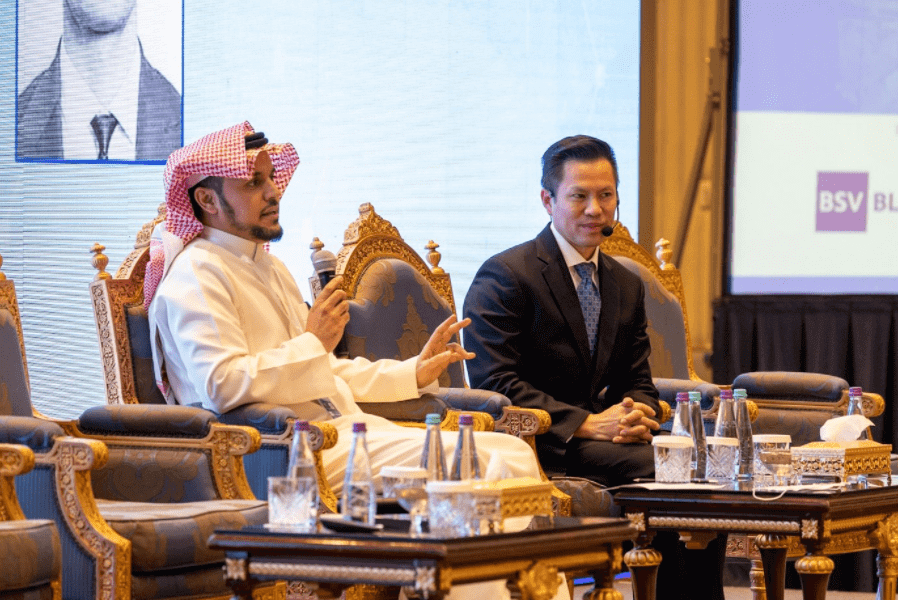 Jimmy Nguyen took the stage next along with Dr Khalid AlShathri, General Manager of Emerging Technologies at the Communications and Information Technology Commission (CITC) of Saudi Arabia. The two conducted a Fireside Chat session which explored the state of IT regulation in the country and its friendliness to innovations such as blockchain technology.
AlShathri began by introducing himself and the role of the CITC as a telecommunications and information technology regulator, before moving on to a project that they have begun which combines emerging technologies and smart energy metering.
'We have discussed for several years that we have to use emerging technologies, such as IoT, for various purposes. We decided that the best use case for IoT was smart metering. We are going to use smart meters for different purposes, not just measuring consumption. Once we record those measurements, we can pay using those systems and create new use cases,' he said.
AlShathri then spoke about blockchain and how it can build trust between parties that do not know each other. It can be used to discern and classify legitimate entities in a way that is impossible in current systems. He also spoke about how the CITC's perspective towards the implementation of blockchain regulation and the challenges it faces in drafting this legislation.
'We have a challenge at CITC: do we need to jump in from today and start regulating the blockchain?' he said, noting that in 2016, the regulator opted to delay regulating the IoT sector until it had matured and the market had organically shown the need for regulation.
'Now for the blockchain, we are running our annual reviewal process. I believe by the end of this year we are going to have our first blockchain regulation.'
Online games, NFTs and the Metaverse – Jimmy Nguyen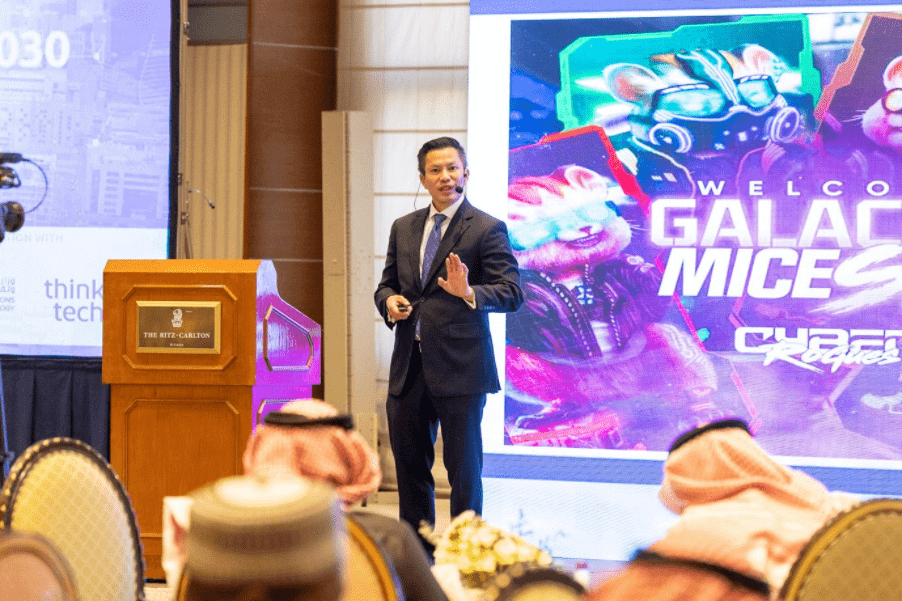 After a lunch break, Jimmy Nguyen returned to the stage to kick off the second half of the summit with a presentation on eSports, online games, NFTs and the Metaverse, which demonstrated how these can be applied with real utility on the BSV blockchain. He spoke about the history of digital and in-game assets, and the power of monetary incentives in the online gaming industry.
'This is where BSV's tiny transaction fees allow activity where you are rewarding one US penny or two US pennies at a time,' he explained as he spoke about Haste Arcade, a play-to-earn leaderboard-based game platform that rewards those on each game's leaderboard with small micropayments each time somebody plays that game.
Nguyen also introduced the online game CryptoFights, explaining how they write game events to chain and how characters and items are tokenised as NFTs, which can be used on other platforms and traded outside of the game's ecosystem.
These unique use cases are enabled at an unprecedented scale thanks to the BSV blockchain's low transaction fees and unbounded scaling. Nguyen noted that last year, NFTY Jigs minted over 175,000 digital art content NFTs for a total cost of just $175.
'This opens up the capacity to do many things with NFTs, not just to make games. Imagine if you are a big brand company and you want to do a big promotion in conjunction with LEAP – you want to distribute NFTs to all the attendees at LEAP. That costs a lot of money on Ethereum, but you could do it very efficiently on BSV,' he said.
Nguyen's presentation closed with a summary of the Metaverse concept and how it ties in with the smart contract and tokenisation properties of BSV, which as a scaled blockchain can offer real utility in this sector.
Blockchain for Construction Industry, IoT & Smart Cities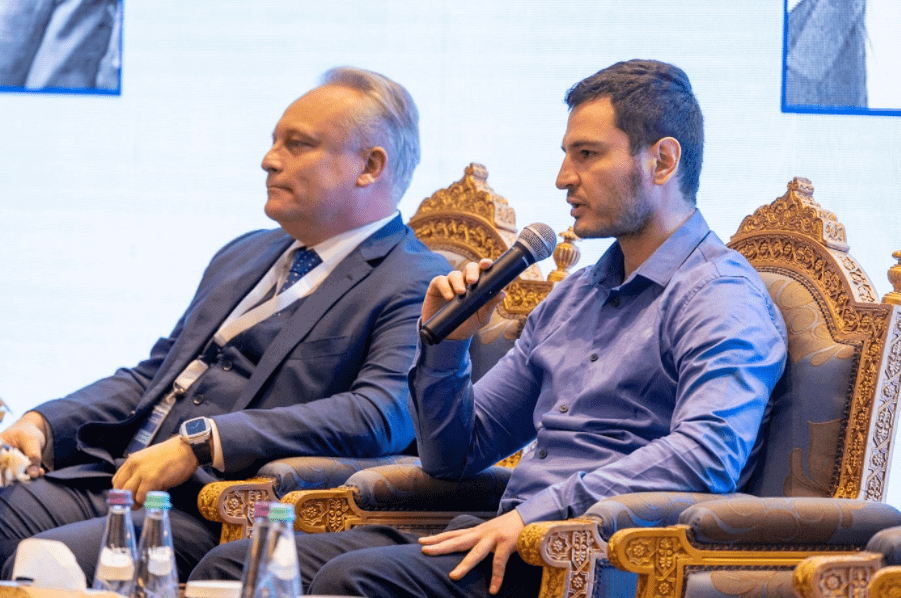 Next up was a panel discussion moderated by Nguyen that focussed on smart cities, IoT and the construction industry, and how these could be disrupted by the BSV blockchain.
The panellists were as follows:
Dereck Hoogenkamp – Chairman, Yalla Limited & PalmFusion Technology
Dr Maximilian Sinan Korkmaz – Managing Director, Stabilwerk Bau
Dr Korkmaz began by explaining his experience in the construction industry and how he identified many inefficiencies and problems that could be resolved with the data and payment capabilities of blockchain technology.
'I've been working in the construction industry for 17 years now, and I learnt the hard way that the construction industry is broken,' he said.
'I founded a start-up to work on the problems in the construction industry. I discovered blockchain and I realised that many issues can be solved using blockchain technology. We are currently building a construction app named Bau.app. It's a super app encompassing several features.'
He went on to explain the smart contract features of the application and how it offers an incentive to clients to securely pay construction companies earlier, enabling those companies to generate more reliable cash flow to complete their projects.
Hoogenkamp detailed his history in the property business and his current interest in the Metaverse and its integration with smart cities.
'The blockchain is how you can solve a lot of trust and deliver transparency and seamlessness for real estate projects. So that's way I started to create Yalla Properties and Yalla Limited, and that's how I got into this space.'
He also explained the concept behind PalmFusion Technologies, a hand-scanning authentication solution that enables everything from contactless payments using biometric data to access control, identity verification and much more.
'Your hand is your key, your hand is your passport, your hand is your key – your hand is even your wallet,' Hoogenkamp said.
Blockchain for the fintech revolution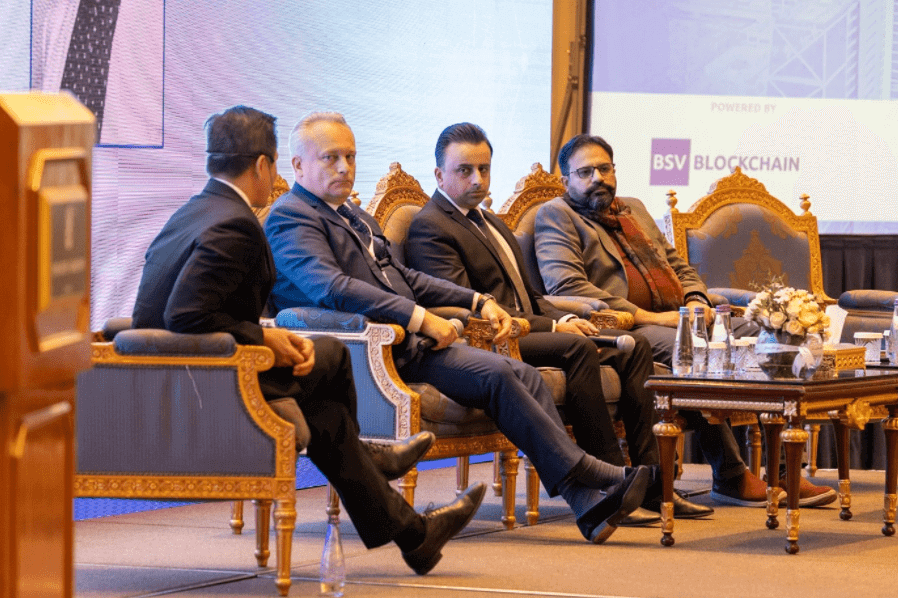 Next up, Jimmy Nguyen chaired a panel on how the BSV blockchain can revolutionise the world of fintech by improving data integrity and offering an auditable digital ledger that facilitates fast, cheap payments that are immutably recorded and timestamped.
The panellists were as follows:
Muhammad Salman Anjum – Chief Mate, InvoiceMate; Head of BSV Hub, MENA/South Asia
Dereck Hoogenkamp – Chairman, Yalla Limited & PalmFusion Technology; Ambassador, Wallex and Titan Bank
Simit Naik – Director of Commercial & Strategy, nChain
Hoogenkamp began by elaborating more about PalmFusion and its potential to be integrated across various industries, as well as the stablecoin they have launched in Europe which is fully backed by US dollars.
Anjum detailed the idea behind his InvoiceMate venture, which centres around the concept of 'know your invoice' – a method of improving due diligence and data integrity in the invoicing process built on the BSV blockchain.
He spoke about how inefficiencies and security problems are present everywhere in the traditional invoicing system and how InvoiceMate offers businesses a way to ensure they are managing invoices correctly.
Staying within the realm of fintech, Naik explained the work nChain is doing with central banks around the world related to Central Bank Digital Currencies (CBDCs) and e-money.
'Central banks are facing a threat from private money. It can be stablecoins and it can be initiatives like Facebook. The threat of private money is always going to be there and it's only going to get more threatening to central banks. But when you consider the role central banks play in certain parts of the world, cash is a lifeline for a significant amount of people across Africa and Asia,' he said.
'Central banks are starting to think about how we can use technology to create a digital form of cash. Over the next 12 months I foresee all central banks starting to research CBDC projects or even starting to pilot. And where we are at nChain is, we have solutions for digital cash and retail CBDC, but we also have to consider the other form of money, which is the money that sits in accounts, and so we have solutions for that.'
The combined power of IPv6 and blockchain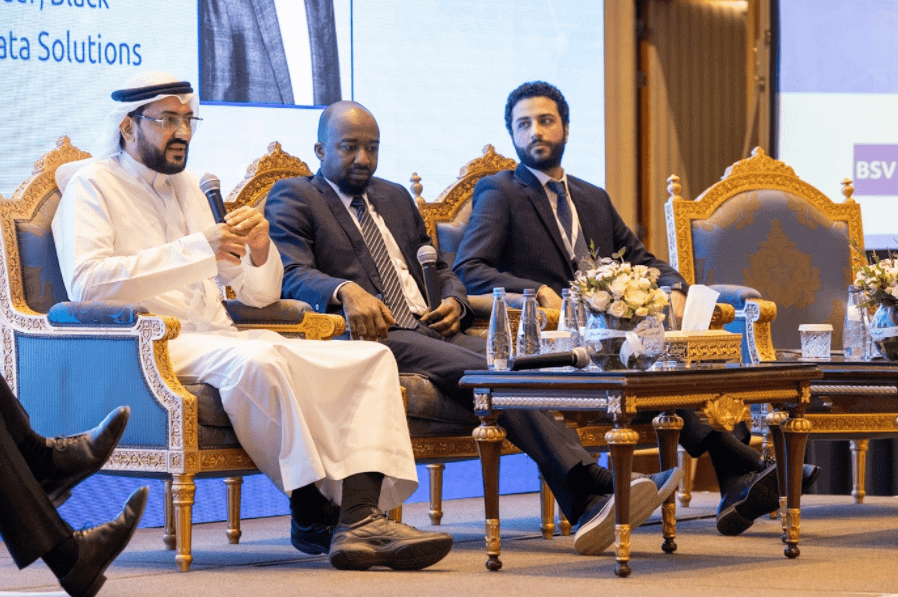 The next session began with a remote presentation by Latif Ladid, chair of the 5G World Alliance and President of the IPv6 Forum, on how blockchain technology can be combined with the IPv6 standard to deliver powerful new features over the Internet.
'One of the most important steps we have to take in the next five years is to move to IPv6 only for a certain number of reasons, primarily to get better network control of the Internet, and then to introduce new functions. But more importantly to introduce end-to-end and peer-to-peer applications like BSV.'
'Talking about blockchain and BSV, it is very clear from the experience we had that IPv6 is good for Saudi Arabia… Now is the time for BSV, which is also very good for Saudi Arabia and at the same time, Saudi Arabia can become an example of how to do that, especially combining IPv6 and BSV as they are very good roommates,' he said.
Following this presentation, Jimmy Nguyen spoke to a panel of experts on the potential of integrating IPv6 with the BSV blockchain.
The panellists were as follows:
Ahmed Yousif – Middle East Lead, BSV Blockchain for Government Initiative; Co-Founder, Black Stone Data Solutions
Jad Wahab – Tech Lead, nChain
Dr Basim Zafar – Chairman, EVC (Experts Vision Consulting)
Wahab began by speaking about the importance of IPv6 adoption, noting that there are a lot of use cases that are enabled by the protocol, including the sending of jumbo packets across the network.
'How that fits in with blockchain is that you can add a lot of security into the Internet by adding a payments layer, and as we know in security it is a lot about risk management so you have to make the system a lot more expensive to attack than the attacker would get out of attacking the system,' he said.
'And with payments integrated into the Internet, we can mitigate a lot of the attacks and vulnerabilities that occur within the current Internet.'
Yousif elaborated on this concept, stating that most countries were moving towards IPv6 and that adoption of the protocol was inevitable. He added that the integration of security and payments into an IPv6-based Internet through BSV would allow a true Metaverse to be created that supports everything from identity management to large data transactions.
Dr Zafar also spoke about the potential applications enabled by the integration of the BSV blockchain with IPv6 and how this could be applied in Saudi Arabia.
'I think with IPv6 connected with blockchain and other technologies, all of those technologies have been designed to work together, and we can use the blockchain with IPv6 to give international ID numbers to Muslims around the world, and they can use it when they come to Saudi Arabia as a passport,' he said.
Investing in blockchain for Saudi Vision 2030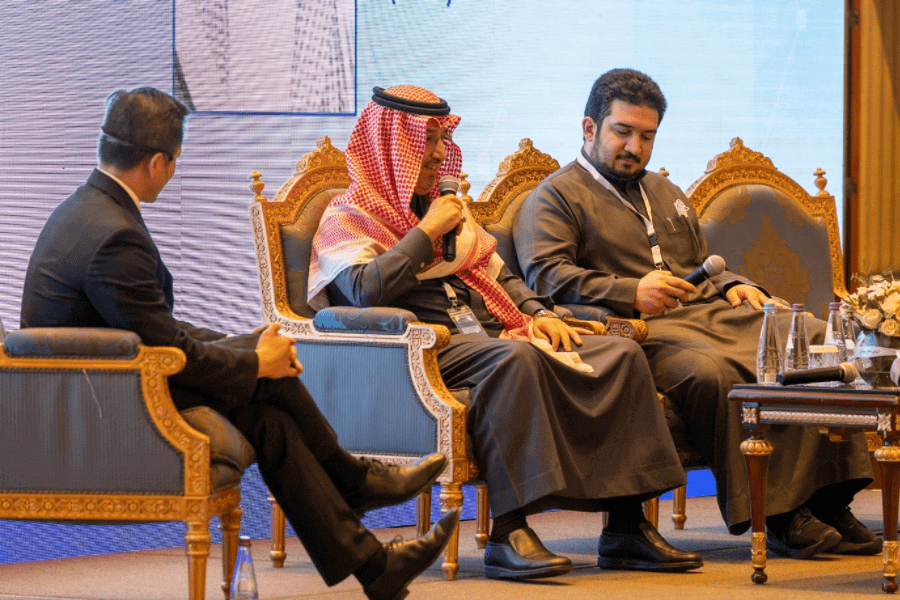 The next session saw Nawaf and Ahmed Alabra, Co-founders of e-Procure take the stage to speak about start-up support in Saudi Arabia and the state of investment in blockchain ventures.
Nawaf Alabra began by explaining the e-Procure business and one of its main solutions: a smart escrow based on blockchain technology and smart contracts that automates payments between buyers and suppliers.
Speaking about the experience of launching a blockchain-based start-up in Saudi Arabia, Ahmed Alabra explained how they were looking at emerging technologies to improve supply chain infrastructure and how they found blockchain technology to offer the best solution to solve the problems they encountered.
The speakers explained how they valued the utility of blockchain technology and how this would only grow as adoption increases and the industry of blockchain-based services and platforms continues to grow. Nawaf Alabra used the example of Bluetooth technology, likening it to blockchain as a communication infrastructure that enables new applications but does not require an understanding of its underlying mechanics.
'You don't need to understand how blockchain works, you need to apply blockchain into your use case directly, and use it like you are using Bluetooth today,' he said.
Closing speech – Jimmy Nguyen
To close off the Blockchain for Saudi Vision 2030 Summit in Riyadh, Jimmy Nguyen took the stage to deliver a closing address centred around the importance of time and how timestamped digital records have been crucial throughout the development of human knowledge.
Blockchain technology is the next evolution of humanity's relationship with time and data, and the BSV blockchain offers the most scalable and efficient protocol with the lowest transaction fees and highest data throughput, making it the ideal platform on which to build the exciting new businesses and services that will make the most of this new, reliable and verifiable data.
'A blockchain is a distributed timestamp server, recording a transfer of data, an event across time,' he said.
'All this works to improve the honesty and efficiency of our world, only if we can do it many times across many transactions.'
To demonstrate the ability of the BSV blockchain to achieve this, Nguyen pointed to the record-breaking scaling of the BSV blockchain and its rapidly growing transaction throughput, showing how the BSV blockchain has processed more transactions in one day than all other major measured blockchains combined.
He concluded with a summary of the many exciting ventures being built on the BSV blockchain, as well as the recent partnership with the Saudi Digital Academy to launch a full-scale BSV Blockchain Academy in Saudi Arabia.