As we're moving into the tail-end of the Northern Hemisphere's summer events season, we look back at the enterprise blockchain presentations and panel discussions of early summer.
This recap covers sessions that took place on day one of the BSV Global Blockchain Convention in Dubai at the end of May 2022. Our short summaries give you an overview of the content, while the video links give you a chance to catch up on the ones that are relevant to you.
Welcome to 'something formidable'
Calvin Ayre, Founder of CoinGeek Media and the BSV conference series opened the convention with a welcome recorded at his home in the Caribbean. Ayre described the event as the premier forum for exploring the utility, innovation and boundless potential of the BSV blockchain.
Since the previous conference in New York, the BSV blockchain has continued demolished assumptions on blockchain capacity, hitting a new record of over 20 million daily transactions in April 2022. The record for transactions in a single block topped at 2.4 million and the record for the largest block by data size was just under 4 GB.
Ayre said that an increasing number of BSV transactions take the form of NFTs, including those generated by players of FYXGaming's wildly successful CryptoFights. He pointed out that BSV differentiates itself from other blockchains by its ability to store NFTs on-chain rather than a hyperlink to an off-chain storage mechanism lacking the permanence of blockchain.
He then went on to address the growing number of hacks plaguing the DeFI sector, and how it illustrates the downsides of trying to bridge different blockchains. In contrast, BSV's strong single layer renders such bridges superfluous.
Further, BSV's on-chain scaling capacity makes it the perfect platform for the end-to-end model of the Internet under IPv6 to restore its original design of peer-to-peer communication without intermediary charges, the way BSV has restored Bitcoin's original design.
Watch Calvin Ayre's welcome speech
BSV Blockchain: A World of Good
The convention host, Jimmy Nguyen (Founding President of the BSV Blockchain Association) took the stage at the Global Blockchain Convention in Dubai to do the first presentation 'BSV Blockchain: A World of Good'.
The presentation set the underlying theme for the convention. Nguyen pointed out that Bitcoin was not meant to be used for speculation, money laundering and obscure or illegal transactions. Instead, Bitcoin was meant to be useful and lead to a more honest, productive and fair society.
Nguyen emphasises the importance of BSV Blockchain for society and the economy. Its role as a public ledger that timestamps any data stored on it is an achievement of historical significance. As a universal source of truth (UNISOT) this does not only help to break up data-silos, but it has many use-cases in public services, academia, enterprises and government projects.
Nguyen showcases many applications and use cases for the BSV blockchain in various fields. Among them, the health sector, supply chains, academic certification and much more. They display how BSV Blockchain facilitates more reliability, better services, transparency and honesty in all projects that integrate BSV or rely on the blockchain.
The theme 'BSV Blockchain: A World of Good' remained a common thread throughout the convention as Nguyen continued to moderate the talks, presentations and panel discussions.
BSV in the Middle East
Muhammad Salman Anjum, Head of BSV Blockchain Association Hub, Middle East & South Asia presented the achievements of his hub. The importance of the three interconnected regions lies not only in their population size, as they represent one third of the world's population, but also in the key role that emerging technologies, especially blockchain, play in the regions.
The regions are very committed to driving digital transformation, as various governments in the region are supporting emerging technologies. Its support of digital advances is unmatched and this region therefore provides a good environment to build up the BSV ecosystem. Hence, the BSV Hub is head-quartered in Dubai in the United Arab Emirates, where the government has identified blockchain in particular as a key technology.
The hub has two major agendas:
The BSV Blockchain Association has collaborated closely with many government and private entities in the United Arab Emirates just in the last two years. Companies from all imaginable industries and countries are working with BSV and collaborating with them worldwide. BSV now has an infrastructure facility in Dubai. Workshops are offered there, inviting everyone to interact with the BSV ecosystem.
Future goals for the BSV Hub are:
Promoting adoption of BSV in the context of metaverse, gaming, government and enterprises
Organising meetups and open days
Offering incubator program partnerships
Supporting female entrepreneurs and appoint women as ambassadors for BSV
Creating training programs and workshops
Watch Muhammad Salman Anjum talking about BSV in the Middle East
Small payments, big fun: micropayments for casual games
Moderator – Becky Liggero Fontana, Lead Gaming Industry Reporter, CoinGeek
Panellists:
——————————–
This panel discussion broached the topic of the growing importance of the financial dimension in the gaming industry. However, in the current state, there are several issues that affect developers and publishers or the gaming experience itself. Among them are e.g. large upfront costs, advertising interrupting the game experiences, limiting subscriptions models and expensive in-app purchases.
The blockchain technology Bitcoin Satoshi Vision (BSV) can tackle these issues in many ways. One of its most important features is that it facilitates micropayments. This allows for a better and more seamless user experience, while developers can simultaneously start to earn revenue at early stages. It also allows monetising in-game. All panellists agree that BSV has many features and properties that make it a prime candidate as a solution in the gaming industry.
reliably low transaction fees
scalability
stability
Fiat-based solution and other blockchains are not able to compete regarding any of the BSV metrics. Plus, high transaction fees charged by the blockchain make sending small amounts of money impossible. In comparison to other blockchains, BSV's fees are extremely low and they are further going down with increasing users.
With BSV, NFTs that are created in a game can become an asset outside of this game and can be used in other contexts also. With micropayments, there is the possibility to shift away from big, high-priced collectibles which involve a small group of creators and a small group of wealthy buyers. Instead, micropayments allow the creation of very many NFTs that are low-priced and affordable for everyone.
Scaling games on Layer 1: Why it matters
In this presentation, Adam Kling (Founder & CEO, FYX Gaming, Inc) talks about the many advantages of gaming on blockchain: modern technology set up in a decentralised system, a community-driven approach where players can own digital assets from their games.
However, the reality of playing games on blockchains is often problematic: developers don't fully use the technology inside the games, there's a lack of efficient data storage on-chain and high transaction fees. As a result, there is low scalability with NFTs being used mainly just for sales and profit.
This is why it is important to set the foundation for scalability in the first layer of any project to create security. Otherwise, you can have great short-term success but when your audience grows, your game technology will not scale to the new volume and it will fail in the long-run.
Key take-aways:
Never sacrifice the security and scalability of the blockchain you are on because it will come back to haunt you long-term.
Do not focus on NFT sales and gaining cash but rather focus on innovation and building a community. The community members are essentially investing – through their time and tokens – into the projects which creates a sense of ownership.
Kling believes in the quality infrastructure of the Bitcoin Satoshi Vision (BSV) blockchain. FYX Gaming is planning to transform the gaming industry through creating new experiences in the players' games. They want to ensure game and data integrity in e-sports with competitive play and enable players to own and even transform the digital assets and NFTs they have.
Play2Earn with the BSV blockchain
Raheel Iqbal, co-founder of Game Storm Studios and CEO of the technology company OZI Group, presented an overview of Game Storm Studios: The company has over 1.000 employees and has developed more than 5,000 games that have been downloaded over a billion times. Until now, the company mainly produced Free2Play games, but is now moving towards so-called Play2Earn games.
On the size of the gaming market and the Play2Earn market in particular, Iqbal explained that the total gaming market is expected to grow from $220 billion to $340 billion between 2021 and 2027, of which more than 50% is attributable to mobile games. He attributes the growth in mobile games to an increasingly strong relationship between gaming and blockchain technology. According to Iqbal, the market for blockchain-based games will quadruple by 2027.
He then uses the BSV blockchain game Monster Truck Action as an example of the blockchain-based Play2Earn model. Here, several players can meet in a virtual room, select their monster truck and play against each other. The winner then gets all the tokens wagered.
Finally, Iqbal makes it clear to the audience that, in his view, Play2Earn is the absolute future of the gaming industry, as it will also play a major role in the Metaverse. The strongest growth will be in the so-called APAC region, as more than half of the world's population comes from this region and the population here will continue to grow.
Watch Raheel Iqbal's presentation
Blockchain: Data power-ups and NFTs for eSports
Moderator – Becky Liggero Fontana
Panellists:
——————————–
In e-sports and online games, NFT are used to give membership access to players, so they can earn passive income by playing the game. Additionally, NFTs totally change the life cycle of how games are created, funded and marketed. The players buy NFTs and get to participate in the creation of the games.
Although there are many different blockchains, most have high entry and transaction fees compared to Bitcoin Satoshi Vision (BSV). With BSV, everyone can participate. While chains offer tokens as funding for developers making available funds immediately, it means there's less incentive for the developers to stay. The panellists conclude that it's better to choose traditional funding mechanisms to ensure commitment to the project.
Panellists are in agreement that BSV improves the gaming experience and that it is currently the best blockchain for the use case:.
It is easy and cheap for the player, and it offers enough volume and speed to the developing companies.
With BSV, everything is on-chain and in one system.
Its metrics such as the return on investment and customer acquisition rate are outstanding.
Future outlooks are that gaming will go into crypto space. We went from play-to-win toward play-to-earn and it is now moving on to play-AND-earn. Gaming used to be dominated by influencers whereas now this role is filled by gamers themselves. In some cases, gaming has even evolved into a play-to-learn model
Blockchain and creativity (Keynote speech)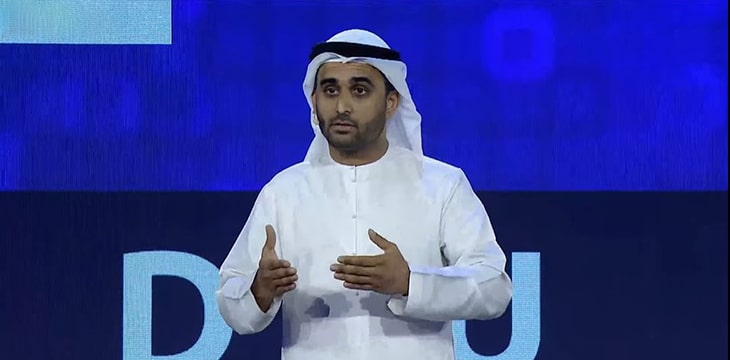 Adnan Al Noorani, Founder of the Future Innovation Summit, Chairman of the Board, Private Office of Sheikh Saqer Bin Mohamed Al Qasimi introduced the topic of blockchain and creativity. Al Noorani views blockchain as the seed from which sprouts NFTs, digital currencies, gaming and the Metaverse to serve people with better lives and greater success.
Next he poses the question, 'what does it mean to be creative', and proposes that it entails having fun in life in order to contribute something to humanity. Three prerequisites for creativity and success are:
Thinking of solutions day and night while others are sleeping
Studying your mistakes to turn them into success
Turning your failures into success while others are still dreaming of success
To close off, Al Noorani advocates investing in new generations, as they will lead the new era of modern technology.
Virtual events and blockchain
Ryan Byrne, Co-founder & CEO, BuzzCast introduced their virtual and hybrid events platform launched in March 2020 with a focus on doing large global events with audiences around the world and a complicated nature, such as United Nations events.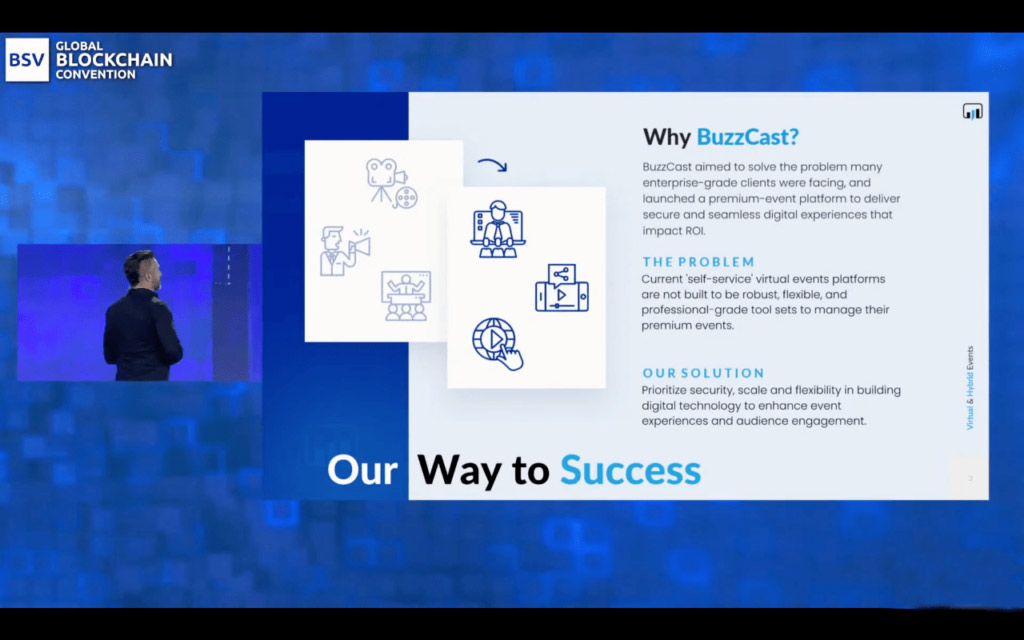 Buzzcast was originally trying to solve the problem of virtual events platforms that were built around a self-service model and lacked the robustness, flexibility and professional-grade tools to manage premium events.
The platform they built prioritises security, scale and flexibility and delivering extremely high quality technology and streaming. The platform can deliver on simple to complex needs for events, a custom attendee experience and data-rich analytics.
The company has now moved on to solving the problem of post-event follow up by helping brands to create ongoing and lasting engagement between events. BuzzCast's NFT-based gamification system seeks to drive attendees to share, connect and engage before, during and after events to boost value for event hosts and sponsors by building lasting community and ongoing connection.
Masters of the Metaverse
Robert Rice, Founder & CEO, Transmira, Inc. (Omniscape) explains the Metaverse as the sum of the information around us which we can experience through Augmented Reality (AR) and Virtual Reality (VR) technologies.
There is a new singularity of converging events and technologies that could potentially change the world on a global scale with the Metaverse. All major industries will be disrupted and will be propelled forward by the Metaverse. The opportunities are endless and within the next decade, nearly every aspect of our lives will be impacted by the metaverse. This market could grow to 13 trillion dollars and 5 billion users.
Rice's four keys to mastering the metaverse are:
Location – real world, digital twins
AR + VR – blend and crossover
Monetisation – virtual goods, NFTs, etc.
Blockchain – Commerce, Security, Authenticity
Rice's company, Omniscape is creating full-scale, real-sized, three-dimensional digital twins of cities feeling like you are actually there as a tourist or visitor. Sports events, concerts or museums can be visited as if you were there. Not only would you be able to see the city but also to have an avatar there of yourself so real people can speak with you through your avatar. Regarding monetisation, funding and transferring money, companies pay to place content or products in this digital world.
To create this world, Rice views the BSV blockchain as essential since it is the only chain capable of the required speed, scale, security and low transaction cost to support the metaverse. It is superior to any other blockchain currently available.
Buzzmint: Elevating NFTs
Charles Alexander Symons, Co-founder & Director of Ideation at Buzzmint introduced the product as a platform allowing customers to create tokens and NFT projects in their own digital infrastructures. Customers range from sports, media, magazines, comics and many more such as art collectors.
Symons displayed an original, physical painting by artist Pierre Auguste Renoir. The main reason they decided to mint and create the respective NFT on Bitcoin Satoshi Vision (BSV) is because its immutable data storage lets them connect the physical painting to its digital twin containing the required metadata. Additionally, they chose BSV for the safe system that makes this global platform unhackable. This is especially important as they are handling transactions worth millions of dollars.
Buzzmint is creating two NFTs of this one painting; The first NFT will be the first ever digital ownership certificate containing all the metadata and all the authenticity provenance documents. The second one will represent the first ever high-quality scan of the painting as an NFT.
Further reasons why they chose BSV to mint this NFT on BSV are that a percentage of the profits from the paintings will go into developing that exact platform. It also creates interest and huge positive attention in the art world as this digital twin will endure on the BSV blockchain. The customers want a flexible, innovative, secure and fast platform. They want the option of tailored solutions and guidance. And this is exactly what Buzzmint already delivers.
Metaverse, NFTs and Blockchain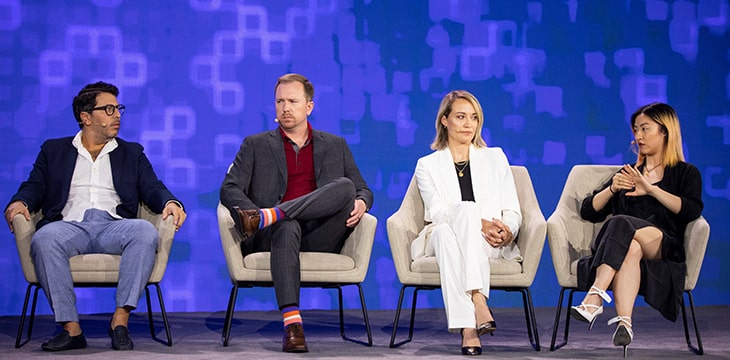 Moderator – Hussein Sayed, CNBC Arabia Anchor
Panellists:
Rami Maalouf, Partner, SNGLR Group
Phil Runyan, Co-Founder, NiftyCo
Lena Hannah Nussbaum-Barth, Founder & CEO, Yes My Love
Lou YU, Head, KuCoin Labs
——————————–
To get beyond vague buzzwords, Runyan gave a short description of web3 as a platform that provides agency to the consumer. He used online gaming as an example, as web3 (via blockchain NFTs) allows gamers to own their characters and achievements, where the current model means that platforms own player interactions and can deplatform players.
According to Maalouf, NFTs are not just hype, but are here to stay because they generate sustained interest, particularly from companies in entertainment and retail with valuable brands and IP-based businesses. When it comes to governments, Maalouf interacts with those who view it as a transformative technology and try to be ahead of the curve. On the other side of the spectrum, there are governments that take a more reactive approach, waiting to see what develops.
On the question of blockchain's security, Runyan points out that its immutable ledger offers an unmatchable framework for identifying breaches and restoring data to its unadulterated form.
Nussbaum-Barth spoke about the criteria she uses to choose a blockchain platform for her NFT platform, naming brand fit as the main consideration.
Sayed asked panellists what they see as the next big investment opportunity. For Lou Yu, this is the imminent usability of NFTs and the Metaverse, which she says can also be combined with virtual reality.
The Next Big Thing: Incubating Start-ups on the BSV Blockchain
Craig Massey, Chairman of Satoshi Block Dojo invited entrepreneurs who are building tech start-ups utilising the blockchain to consider their incubator.
Satoshi Dojo exclusively works with projects built on the Bitcoin Satoshi Vision (BSV) blockchain to help them turn their small start-up into the next big thing. They offer an intense twelve-week program of training focusing on entrepreneurship, sales and technology. They remove some the stress of starting a company by providing capital, a network of investors and mentors. They organise meet-ups and lunches where they invite start-ups and potential investors. The main objective is to get the small companies up and running and set them up for lasting and scalable success through the help of the block chain.
The Satoshi Block Dojo is about to start a new program called 'Block Venture Studio' which is essentially an in-house entrepreneurial team for big corporations spanning all their departments. Corporates usually lack the spirit of entrepreneurship due to their size and magnitude. The smaller start-ups will solve issues within the corporation creating a win-win situation. The corporation gets problems solved and gets a share of the start-up while the start-up gets customers and receives funds.
The strength of Block Dojo is bringing together those who can help each other best to propel forward together.
Blockchain Venture Investments: Driving utility for a better world
Moderator – Paul Rajchgod, Managing Director, Private Equity – Ayre Ventures
Panellists:
Tal Elyashiv, Founder & Managing Partner, SPiCE VC
Ketan Makwana, Chairman, Seventy7 Ventures
Dr. Kurt Overley, Co-Founder, Coruscant LLC family office
Ahmed Refaie, CEO, G.P.I. Global Partners Investments Limited
Ray Sharma, Founder/Partner, Extreme Venture Partners
——————————–
Elyashiv explained SPiCE VC's blockchain investment strategy, saying that it's focussed on the companies that are the 'picks and shovels' of the goldrush – companies building infrastructure for the blockchain ecosystem that stands to grow as the ecosystem does. In terms of the blockchains they support, he indicates that it's more a matter of the particular technology's fit with the application that they're attempting to develop.
Makwana echoed Elyashiv, saying that Seventy7 Ventures focuses primarily on the solution – or business case – before judging whether the chosen blockchain will be a good fit.
Rajchgod asked panellists about the technological focus areas of their investments. In the case of Coruscant LLC family office, Dr Overley stated that their focus is pretty broad across industry verticals within the blockchain space.
Refaie agreed with Rajchgod's scepticism about cryptocurrencies' speculative model. He also expressed scepticism about the label of 'blockchain start-up', as the technology is an enabler but not a defining characteristic, just as a business building on AWS doesn't call themselves an Amazon Web Services start-up.
LiteClient: Scaling blockchain with Simplified Payment Verification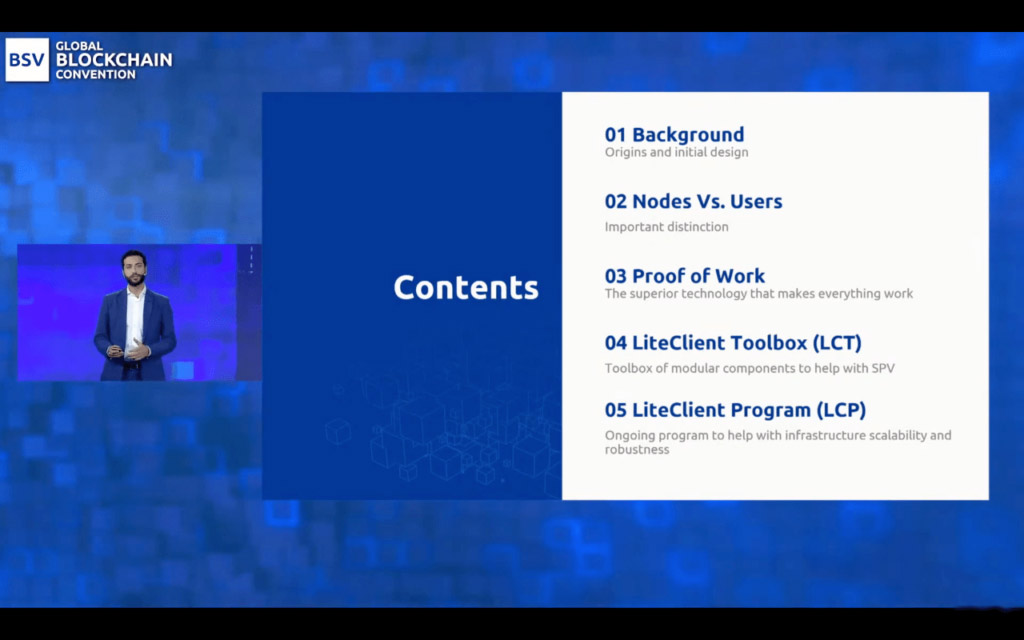 Jad Wahab, Director of Engineering, BSV Blockchain Association started off by giving background on the origins and initial design of Bitcoin, pointing to section 8 of the Bitcoin white paper that explains how its possible to verify payments and data on the blockchain, without downloading all of the network's data, or Simplified Payment Verification (SPV).
The distinction between nodes and users is thus that a node runs a full copy of the ledger, while users can make use of the network without running a node.
Wahab then spoke about the LiteClient software designed to enable the functions that users typically require; sending and receiving payments, writing data to the blockchain and verifying time stamped data.
LiteClient is based on SPV, to enable users a simplified method to fulfil their functions by merely keeping track of the block headers of each block (80 bytes in size) that function as fingerprints that ensure that none of the data has been altered.
Elas: Creating private, permissioned ledgers on the public blockchain
Brendan Lee (Founder & CEO of Elas digital) took the stage with his co-founder and COO, Mohammad Jaber joining virtually.
Lee introduced the topic of the opportunity Bitcoin represents in the context of history, society and humanity.
In terms of history, Lee pointed out that it is unknown to us apart from that which we can tell from the records we keep, from cave paintings to written documents going back a few thousand years. Lee points out that the civilisations that have flourished have done so due to their adherence to central systems of documentation and record keeping.
While the digital revolution has created enormous efficiencies over paper-based systems, the potential to create an unlimited number of copies creates the opportunity for fraud and manipulation.
The solution proposed by Satoshi Nakamoto in Bitcoin's white paper is ideal as a medium for the recording of data for a variety of purposes. Using the Metanet protocol as a scaffolding, Elas believes they are the first to fully realise an open world approach to building on the BSV blockchain.
Making blockchain easy for real world use
Joe Holles de Peyer, Co-Founder & COO of Gate2Chain proposed the idea that all breakthrough technology comes in two waves: hopes and promises, and real world use. As an example, he referred to the invention of the combustion engine which eventually led to the birth of the motorcar. Although the technology had been around for 20-years, it took Ford's mass production to take it from a complex concept to a tool that can be harnessed by people even if they don't understand the science behind it.
The first phase is one of juvenile experimentation – a rebellious or lawless phase.
The second phase is the coming of age – when technology becomes ubiquitous.
Holles de Peyer believes that most of blockchain's history so far has been spent in the first phase.
Blockchain was designed to solve the three fundamental problems of the Internet:
The lack of an inherent payment system in the form of digital cash
The inability to manage value or truth
The lack of an identity layer that can give people their privacy, without falling into anonymity
Given these problems with the Internet, he intimates that society is likewise broken. While blockchain has promised to restore the Internet and society, it has not delivered on it yet.
In order to get blockchain to live up to its potential, we need to change our mindset to making blockchain mass adoptable and beneficial to society and the world we live in.
Gate2Chain is committed to play a role in this process by helping real people to build real businesses with blockchain technology. Their mission is three-fold:
Making blockchain easy for real-world use
Making the world a better place
Helping as many people as possible to capitalise on this unparalleled opportunity
BSV on-chain ecosystem development in Europe
Niels van den Bergh, CEO of mintBlue displayed an image of the Sagrada Familia, stating that the people who started building it in 1882 knew that they would not live to see its completion – yet they did it for the legacy. Similarly, those who are building blockchain infrastructure today know that it will be critical in empowering global commerce a hundred years from now.
mintBlue's software and APIs empower organisations to use the blockchain to combat fraud and enhance security so they're prepared for web3. Van den Bergh then gave an overview of the current version of the Internet, web3, which has been decentralised and fault tolerant since the early 90's.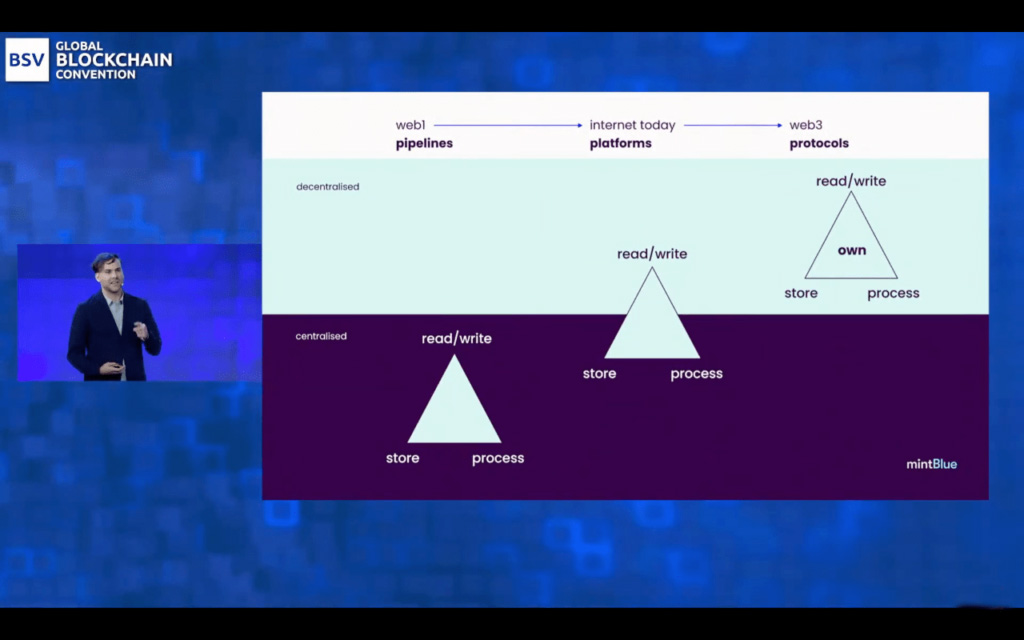 To explain the progression of the Internet, he uses a graph to illustrate that storage and processing of data is still centralised, although content creation is open to everyone. As a result of this platform economy, data processing services are competing with their own clients and customers.
Van den Berg states that the scenario will change with web3 as anyone will be able to read, write, store and process information without reliance on external parties to truly own our own data.
Much of this is already possible, such as with mintBlue's infrastructure that allows anyone to create their own web services based on the BSV blockchain.
Domineum: Better government and enterprise applications with BSV
Geoffrey Weli-Wosu and Mohammed Ibrahim Jega, co-founders of Domineum Blockchain Solutions presented themselves and their company.
When Weli-Wosu came back to Nigeria from London, he noticed a big problem common to countries that are less digitally advanced: an overly complicated civil service. He established the Domineum brand with the goal of helping governments digitise their processes so that they can interact better and, above all, more easily with their citizens.
Even though Domineum also serves the B2B and B2C market, their main goal is to make governments more aware of the principle and the advantages of blockchain-based technologies, as there are still many partly false prejudices about this.
At the end of the presentation, co-founder Jega discussed the relevance of local solutions: Most digital products in Africa are provided by Western companies, which, according to him, are not familiar with the conditions in Africa. For this reason, the two emphasise their local connection and the great opportunities that their company can open up for governments and people in Africa.
Academic accreditation and certification on the BSV blockchain
Dr. Mohamed Al Hemairy, Head of Technology Transfer Office, University of Sharjah took the audience on a journey of a project his University is developing in collaboration with the BSV Blockchain Association.
The problem the project is addressing is the problem of preventing fraud in academic accreditation and certification. As most of these certificates are issued on paper, there are a lot of fake ones in circulation. The process of verifying these certificates is complicated and costly, with up to six entities required to attest a single one to be locally accepted. While digital certificates are easy to produce, they are also easily manipulated and duplicated.
The solution the University of Sharjah is developing in collaboration with the BSV Blockchain Association is to use the BSV blockchain as an immutable database to produce records that are verified with cryptography and tamper proof once issued.
CBDC's and BSV
Moderator – Ramia Farrage, Senior Producer and Presenter, Forbes Middle East
Panellists:
——————————–
Naik opened the discussion by explaining that CBCDs are a form of digital central bank money with two main use cases:
Retail, or for normal citizens to use a digital form of cash as payment mechanism
Wholesale, or for clearing settlements between banks and private institutions
Blood introduced RTCore as the industry's first real-time, Cloud-native commercial and retail core banking system – the heart of banks. The reason they partnered with nChain was because their analysis identified their platform as the most robust, cost-efficient and scalable solution. RTCore gives central banks control over their money supplies and people control over their wealth.
On the future of financial systems, Blood sees finance becoming more personalised where people are acting as their own bank due to the power of their personal devices. This system will be rolled out from central banks to commercial and retail sectors and third-parties to become a hybridised ecosystem that empowers the individual and includes the unbanked.
While CBDCs are a form of national currency issued by central banks, Naik points out that stablecoins can be issued by any entity as long as it's backed by some form of collateral. At the same time, there are different types of stablecoins with some pegged to a national currency and others that are backed by algorithms.
Blockchain for government data and applications
Moderator – Jimmy Nguyen
Panellists:
Saeed Mohammed Ali Alhebsi, Advisor in AI & Sr. Project Manager, UAE Ministry, of HR & Emiratisation
Muhammad Salman Anjum, Head of BSV Blockchain Association Hub, Middle East & South Asia | Chief Mate, InvoiceMate
Vasilisa Marinchuk, Director of International Relations & Engagements, CBCat (Blockchain Centre of Catalonia)
Ahmed Yousif, Middle East Lead, BSV Blockchain for Government Initiative
——————————–
Blockchain represents an industrial revolution for many sectors, especially public authorities and government departments. In 2018, the United Arab Emirates announced that it would implement blockchain technology for 50 per cent of all data transfers and transactions by public institutions and government departments.
There are three critical factors that governments prioritise when using blockchain: the security of corporate and citizen data, efficiency and transparency. Not all blockchain technologies on the market possess these characteristics. However, the BSV Blockchain meets the requirements for administrative tasks and data management of governments and offices.
The immutability of blockchain guarantees fair and secure handling of the information on it. In addition, the BSV Blockchain offers the possibility of optimising process flows at low cost. This is because the processing of data in many countries is very time-consuming and requires high personnel costs. In addition, the blockchain is scalable and can process a large amount of data. Another point that should not be underestimated is the trust created by the blockchain system. Blockchain enables unprecedented transparency, making the path of data or transactions traceable for everyone.
In a model experiment in Makkah that aimed to determine the most efficient method for processing data from people outside Saudi Arabia who needed to submit information to public institutions within the country, blockchain outperformed traditional applications and databases. For example, a permit that normally takes a month to obtain could be produced within 20 minutes. This shows that Blockchain can efficiently share data between offices, significantly reducing government processes. There is even the potential of even shorter processing times.
New technologies, new futures for nations
Muhammad Azfar Ahsan (Former Minister of State & Chairman, Board of Investments, Pakistan) speech focused on the knowledge economy and blockchain.
The term knowledge economy is understood to mean that knowledge should be used as the key to economic growth. More precisely, it means that knowledge should replace the traditional drivers of economic growth.
Countries that have already implemented this method have already made great economic progress and have become bigger players in the global market.
Blockchain technology is a part of the overall knowledge economy and promises a bright future for various fields. These include, for example, the Internet of Things, the healthcare system and many more.
According to forecasts, by 2030 the blockchain market will be worth around $1,432 trillion. Blockchain could account for $1.76 trillion of global GDP. This year alone, approximately $4.1 trillion was spent on blockchain globally, 50% more than in 2019.
Blockchain is a sequence of blocks that contains a complete list of transactions and a ledger that is implemented in a distributed manner and without a central authority. The fabrication risk is reduced because there is interdependence between the blocks and decentralisation. In addition, the blockchain is very transparent.
Many companies advise an early start in using this technology in order to continue to participate in the global market, however, it should be noted that there are still some technical issues that need to be solved first.
According to Ahsan, it will be a few decades before most businesses and governments will be using blockchain. Especially for smaller, traditional companies, it could become a problem. Financial companies are already adopting Blockchain technologies, but manufacturing companies are not.
Globally, the US and China have the best conditions to keep up in the future.
Blockchain for digital transformation of nations
Moderator – Jimmy Nguyen
Panellists:
Kashifu Inuwa Abdullahi, Director General, National Information Technology Development Agency (NITDA), Nigeria
Muhammad Azfar Ahsan, Former Minister of State & Chairman, Board of Investments, Pakistan
Dr. Basim Zafar, Chairman, Experts Vision Consulting (EVC)
——————————–
Abdullahi described that Nigeria's National Information Technology Development Agency (NITDA) has a legal mandate to help Nigerians harness value from emerging technologies, such as blockchain, while avoiding the peril. As government, their exploration of new technology is two-fold:
Discovering how they can use the technology to enhance legacy processes and services
How they can use it as a source of inspiration to do new things
In terms of blockchain, it is a trust technology while the government exists to create a sense of order in a society. As a result, the two go hand in hand in delivering legacy services.
In terms of new applications, blockchain is ideal for addressing the convergence of people's digital and physical lives.
Dr Zafar has been working with the Saudi government in digital transformation for almost 20-years, during which the country came up with their Vision 2030. His company advises government organisations on executing their digital transformation strategies. Al Salem introduced the obstacles to female inclusion in society that blockchain could address. She said that 42 per cent of women worldwide are unbanked – a problem that blockchain can address by enabling issuance of digital identity, land ownership records, smart contracts to secure inheritance of women, and more.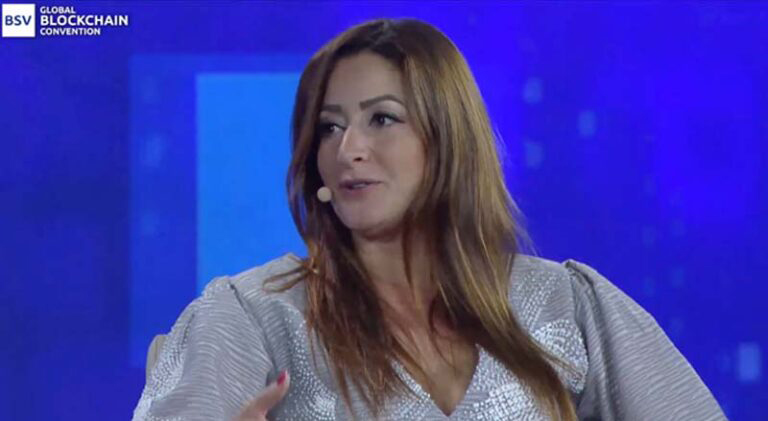 Al Salem introduced the obstacles to female inclusion in society that blockchain could address. She said that 42 per cent of women worldwide are unbanked – a problem that blockchain can address by enabling issuance of digital identity, land ownership records, smart contracts to secure inheritance of women, and more.
Attend a BSV blockchain event near you
The Association for the BSV blockchain is the global industry organisation that supports the BSV blockchain. To see similar events in your geographic location, head over to our events page.