The Global Tech Innovation Summit was hosted by Gulf Xellence at The Obelisk in Dubai, UAE on March 9-10, 2022. The event was centred around the emerging technologies that are set to change the world, from IoT and artificial intelligence to blockchain and distributed ledger technology. It attracted industry executives, technology professionals and government representatives from around the world, and was host to high-profile speakers from a variety of industries.
The BSV blockchain was well represented at the event, where delegates spoke about the ability of BSV's data network protocol to enable a new Internet of value and provide a scalable enterprise blockchain platform for government and business applications. Due to its unbounded scaling, low transaction fees and support for complex smart contracts and data transactions, the BSV blockchain is the only public digital ledger capable of scaling to meet the demands of enterprise and government applications.
Guests and speakers at the event included Tim Draper, Founder of Draper Associates; H.E Ahmed Elmetwally, CEO & General Manager Private Office of Sheikh Mohamed Bin Ahmed Bin Hamadan Al Nahyan; and H.I.M Empress Shebah Kasambu'Ra, Queen of Sheba. Sharing the stage with these speakers and representing the BSV blockchain applications building on the platform were Jimmy Nguyen, Founding President of BSV blockchain's association; Dr Craig S Wright, Chief Scientist at nChain; and Muhmmad Salman Anjum, Head of the BSV Hub for MENA and Chief Mate at InvoiceMate.
The Global Tech Innovation Summit hosted many sessions over two days, exploring the topics of distributed ledger technology, the Metaverse, NFTs, artificial intelligence and much more. We have summarised the two sessions delivered by the BSV blockchain's representatives on the second day of the event below.
Fireside Chat – Jimmy Nguyen and Dr Craig S Wright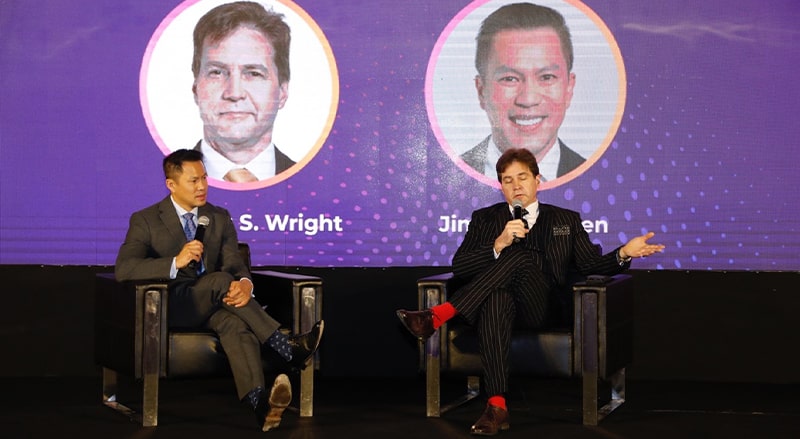 A highlight of the Global Tech Innovation Summit was a Fireside Chat between Jimmy Nguyen Founding President of BSV blockchain's association, and Dr Craig S Wright, Chief Scientist at nChain, on the topic of 'Blockchain for the Future of the Gulf Countries'. The pair discussed the capabilities of the BSV blockchain and its ability to deliver real-world applications in the Gulf countries and across the world.
Nguyen and Dr Wright spoke about the ability of the BSV blockchain to enable new and exciting applications within the IoT, connected devices and smart cities industries thanks to the ability of the BSV blockchain meet the scaling demands of government services. They noted that one of the most crucial aspects of the BSV blockchain was its ability to facilitate micro- and nano-payments, which not only allows efficient scaling of high-throughput data and transaction services but also opens an opportunity for new business cases that are impossible to realise using traditional payment infrastructure.
A key takeaway from the Fireside Chat was that blockchain technology, and the BSV blockchain in particular, could be an invaluable tool to help transform the Gulf countries into technological powerhouses. These capabilities could help to deliver more efficient financial services, such as remittance products for migrant workers that travel to the UAE from other countries, as well as enabling the country's ambitious plans for smart cities and interconnected IoT systems.
Dr Wright and Nguyen also spoke about the utility of the BSV blockchain being more important and valuable than the current widely perceived value of digital assets as speculative investments, using the example of IPv6 integrated with BSV to demonstrate why a smart city project will need both individually addressable IoT devices and a blockchain network to efficiently facilitate data transactions between these devices, all while keeping a complete and immutable record of interactions.
Dr Wright also spoke about the concept of decentralisation and its misuse as a criticism of blockchain networks, noting that Bitcoin was created to reduce intermediaries for more efficient payments and peer-to-peer data interactions, not to decentralise resources at the cost of processing and transaction efficiency.
Invoice management on BSV – Muhammad Salman Anjum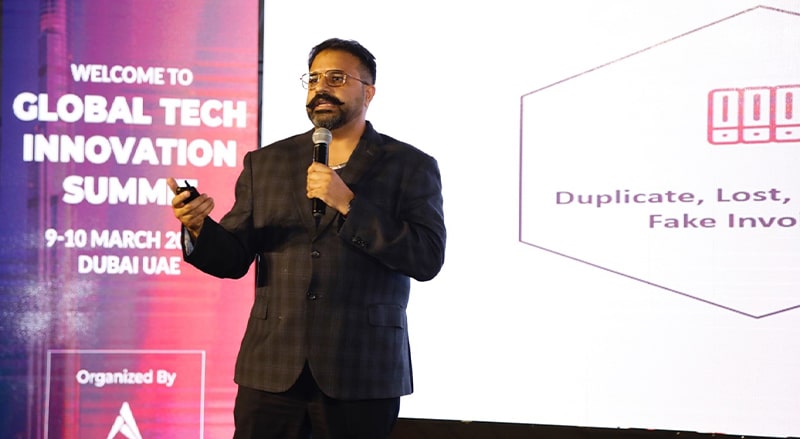 Also presenting at the Global Tech Innovation Summit was Muhammad Salman Anjum, Head of the BSV Hub for MENA and Chief Mate at InvoiceMate. Anjum's presentation focused on a practical and powerful use case for the BSV blockchain which he has implemented through his company, InvoiceMate: invoice management.
InvoiceMate uses the BSV blockchain to provide a next-generation invoice management solution that ensures trust and efficiency while offering an automated, plug-and-play approach to integration. Using the BSV blockchain's immutable and publicly auditable record of transactions, InvoiceMate can engender trust between parties in the invoicing cycle while preventing fraud and losses caused by inefficiency.
This solution is designed to be compatible with existing invoicing solutions, making it easy to integrate with traditional systems while allowing customers to take full advantage of the powerful features enabled by the BSV blockchain.
Anjum showcased the measurable impact of integrating InvoiceMate on business performance, noting that they consistently see faster invoice reviews and approvals, reduced payable workload, fewer payment errors and a significant boost in data accuracy.
He spoke about how solutions like InvoiceMate can be easily integrated into existing systems to greatly boost efficiency and reliability, making it an ideal candidate for businesses and governments to adopt as part of their digital transformation initiatives.