LEAP 2022 kicked off in Riyadh, Saudi Arabia, on February 1, 2022, marking the biggest tech event debut in history with over 40,000 people in attendance. LEAP is a global technology event and expo which showcases the latest cutting-edge technology from around the world and plays host to several prominent keynote speakers, including Kaspersky founder Eugene Kaspersky, VMware CEO Raghu Raghuram and the Founding President of BSV Blockchain's association, Jimmy Nguyen.
The first day of the event saw massive attendance as the audience moved between keynote presentations, the various exhibitions and a series of Orbital Talks spread throughout the Riyadh Front Expo Centre.
In an Orbital Talk titled 'Data and payments: How blockchain can power the FinTech revolution', speakers working with the BSV blockchain took the stage to speak about the blockchain and how it can be used to radically improve the traditional world of finance and data management. The BSV blockchain is the only public blockchain that offers unbounded scaling, low transaction fees and a stable protocol, making it the ideal platform to build on for everyone from start-ups to enterprises and governments.
The speakers discussed the potential for the BSV blockchain to surpass and disrupt existing payment systems, how it ensures data integrity and how it can remove inefficiencies present in many industries today.
We have summarised this session below.
Moving into the Internet of value – Ahmed Yousif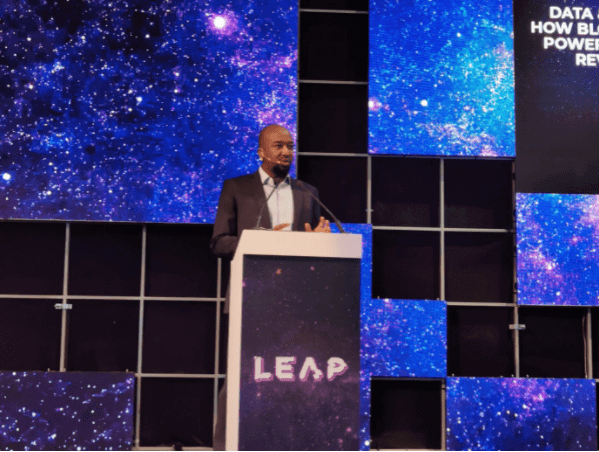 The event began with an introduction by Ahmed Yousif, Middle East Lead for the BSV Blockchain for Government Initiative and Co-founder of Black Stone Solutions. Yousif explained the idea behind the BSV blockchain and its ability to solve many of the problems we face today in the current version of the Internet.
He spoke about the ability of the blockchain to scale well beyond the capabilities of traditional payment systems while also offering extremely low transaction fees.
'BSV is not processing 193 transactions per second like PayPal. BSV is not processing 2,700 transactions per second like Hyperledger. BSV today is processing 5,000 transactions per second. And the target by the end of this year is 100,000 transactions per second,' he said.
'That's four times the transactions per second currently processed by VISA globally.'
This massive scaling ability offers the opportunity to move beyond the current version of the Internet and digital payments and into a new Internet of value, Yousif said. One that enables transferring value securely, with low transaction fees and faster than ever before.
Yousif introduced the next three speakers, noting that each had built a successful project on the BSV blockchain that demonstrates the real-world capabilities of the network.
BSV for data integrity and better payments – Simit Naik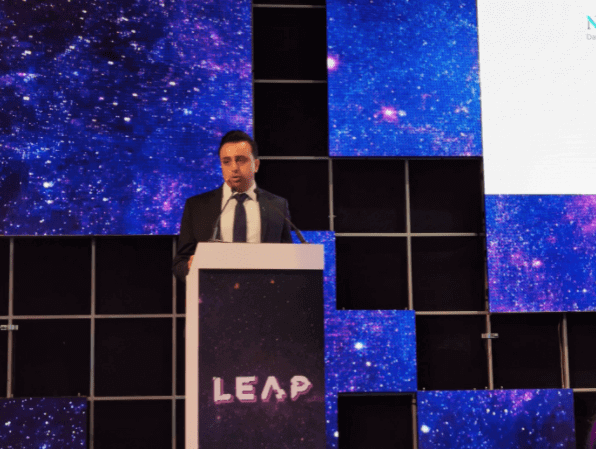 First up was Simit Naik, Director of Commercial and Strategy at nChain, the global leader in the development of blockchain that helps enterprises and governments to create value by building on the BSV blockchain.
Naik began by speaking about cryptocurrency and NFTs, and how these are often conflated with blockchain technology – the underlying system behind these that offers far more opportunities than just digital currency investment and asset tokenisation.
'Blockchain is more than just cryptocurrencies, more than just NFTs. It has the power to revolutionise the way we use data, share data and more importantly the way we value data,' Naik said.
His presentation focused on two topics pertinent to the theme of the session: data and payments.
'Data has a problem with integrity,' he said. 'All across the world we generate hundreds of petabytes of data. We use this data to make decisions. But do we really know that data, can we trust that data, and how do we ensure the integrity of that data?'
He explained that nChain recently commissioned a report that interviewed 200 people across many different industries, asking them to what extent they believed the data they relied on contained errors.
Shockingly, the results of this report indicated that more than 50% of people believe or know their operations are compromised by erroneous data. This is the problem nChain aims to solve.
'At nChain we believe in enabling trust in data. That's part of what we do at nChain, we enable our clients to trust in the data they rely upon. We build out solutions that allow us to supply our clients with the technology that gives them the ability to not only trust the data but that ensures they can rely on that data.'
Naik introduced one of nChain's products which allows businesses to be sure of their data's integrity: Kensei. Kensei is a data integrity platform that allows businesses to leverage the core benefit of the BSV blockchain — immutability — while removing the complexity in referencing data to and from the blockchain.
On the topic of payments, Naik added that the BSV blockchain's ability to scale while keeping transaction fees low enables not just more access to digital payments but also entirely new business models.
'The payment systems today are fragile, expensive and they don't natively support digital payments. We are using blockchain technology to change the way we can digitise payments and provide better mechanisms for people to access money and cash.'
'What we do at nChain on the BSV blockchain is to converge those concepts, overlaying payments and data. That allows use to generate value in the data.'
Building a better construction industry – Dr Maximilian Sinan Korkmaz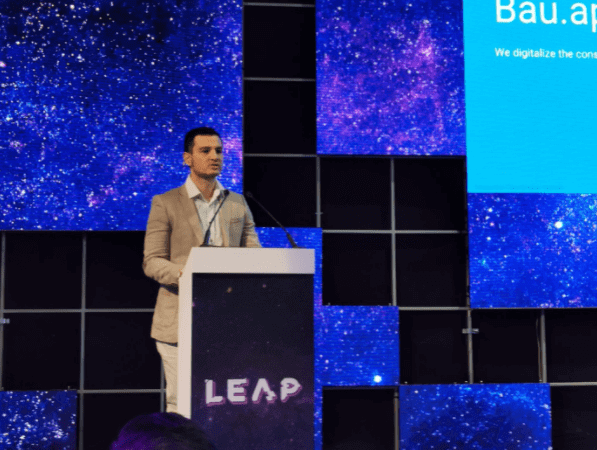 Following Naik's presentation, Dr Maximilian Sinan Korkmaz, Managing Director at Stabilwerk Bau and P2P Software, took the stage to speak about how he had solved major inefficiencies in the construction industry using the BSV blockchain.
In the 17 years Korkmaz worked in the construction industry, he had found that the construction is the least digitalised sector and the least efficient industry – an observation backed by a wealth of research.
'I learned the hard way that the construction industry is problem. I decided to solve the problems of the construction industry using the BSV blockchain. Now I'm developing an app called Bau.app to solve the issues in the construction industry.'
'Our mission is to provide an all-in-one construction management solution that includes payments through smart contracts.'
The app addresses several technical inefficiencies present in the construction industry, but also aids in providing construction companies with the funds they need to complete their work.
'One of the biggest problems in the construction industry is cashflow. Imagine a contractor that has four or five workers – they don't have a huge capital stack they can use, so they need money early,' he explained.
'We have issued a token on the BSV blockchain; if the customer pays us the amount in advance using this token, they get a 10% discount – that is their incentive. Our incentive is that we get our money in advance, which is a very important advantage for us.'
All contracts involved in this process are digitally signed on the application and stored on the BSV blockchain, Korkmaz noted.
'With Bau.app, we provide a platform on which participants of construction projects can agree on contracts and run circular construction projects. Payments among them are executed through smart contracts when they are due.'
He concluded by explaining that the reason they have opted to roll this out now is because construction companies are finally ready to invest in digital solutions that make their businesses more efficient.
Efficient invoice management with BSV – Muhammad Salman Anjum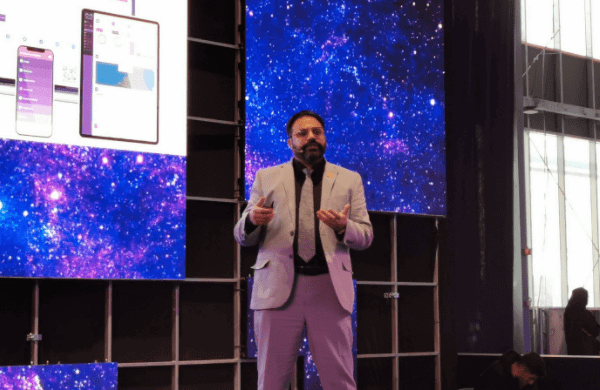 Next up was Muhammad Salman Anjum, Head of the BSV Hub for MENA/South Asia and Chief Mate at InvoiceMate. Anjum's presentation focused around InvoiceMate – his own company which has addressed the problem of invoice management through a novel solution built on the BSV blockchain.
He noted that even with advances in digital payments, there are still many problems present in the invoicing and payments processing cycles.
'The solution is available with blockchain technology,' he said, stating that with the BSV blockchain his company has delivered a way to strengthen trust and efficiency at each point of the invoice journey.
'You need to have a know-your-invoice service with a blockchain, and that is what we are bringing with our BSV blockchain-based service.'
'Why are we using the BSV blockchain? Because it's the number one option for enterprise and government solutions.'
Anjum alluded to a case study with InvoiceMate's client SALIC, where they found efficiency to be approved across the board after implementing this BSV-based invoice processing service.
'We have already installed it to the first of our clients, SALIC. Their accounting staff workload is 50% down now. With this application been already running, this is creating return on investment in a real sense.'
InvoiceMate is the first and only blockchain-based invoice management platform, but Anjum notes that they already outstrip major players in many efficiency metrics.
'We are the world's first blockchain-powered invoice management system, and if you do compare us with contemporary competitors like Oracle and SAP, we have many features ahead of them.'
Conclusion and keynote invitation – Jimmy Nguyen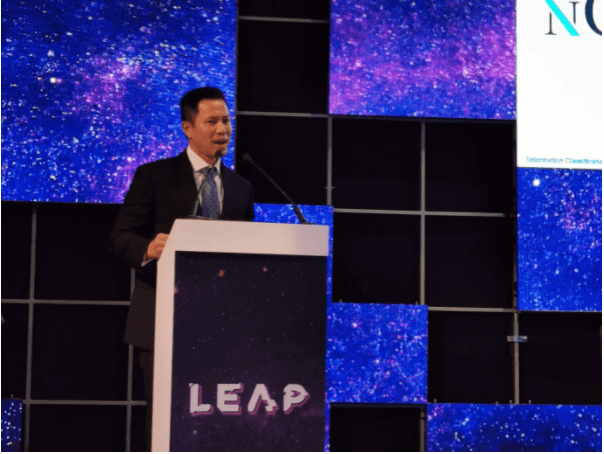 Lastly, Jimmy Nguyen, the Founding President of BSV Blockchain's association, took the stage to speak about the power of fast, cheap transactions on the BSV blockchain and how when this technology works at scale, it offers a way to change lives.
Noting the success stories of the previous speakers, Nguyen also referred to the many BSV-based services being built around the world and how they are improving the lives of everyday people.
'In addition to these countries, we have exciting adventures around the world such as Centbee in South Africa. They've launched a remittance product on BSV called Minit Money, which reduces the cost and the time that is necessary to send money to friends and family in other countries. It makes it much more efficient to send any amount of money anywhere in the world, for much cheaper,' he said.
'On BSV this is all possible because it costs 1/20th to 1/100th of a US cent to send a transaction on BSV. We did not need blockchain to make a financial system where you could send a huge amount of money, the existing financial system already does that.'
Nguyen concluded the session by stressing the need to scale blockchain and fintech infrastructure to make it affordable to send just one US cent to another person. He invited any attendees interested to learn more about how the BSV blockchain can accomplish this at his keynote speech at 12:05 on February 2, on the LEAP main stage.