The AIBC Asia Summit kicked off from March 21 – 23 at the Festival Arena by the Intercontinental Hotel Festival City in Dubai, bringing policymakers, developers, C-suite executives and legal experts from the AI and blockchain sectors.
The event comprised three days of panel discussions, keynote presentations, workshops, networking events and an expo floor which showcased the exciting new applications being developed on these burgeoning technologies.
The BSV Blockchain Association was a major presence at the three-day event, hosting a booth on the expo floor and delivering several keynote addresses, panel discussions and presentations outlining the ability of the BSV data network protocol to offer a stable and scalable platform on which to build the blockchain applications that will power the Fourth Industrial Revolution.
Speakers from the BSV ecosystem at the event included Jimmy Nguyen, Founding President of BSV blockchain's association; Muhammad Salman Anjum, InvoiceMate Chief Mate and Head of the BSV MENA Hub; Brooklyn Earick, Rad NFTv CMO and Jad Wahab, Director of Engineering at BSV Blockchain Association.
In case you missed the BSV presentations during the AIBC Summit in Dubai, we have summarised them below.
BSV at the AIBC Summit in Dubai:
Day 1 – March 21
It's time for a better world – Jimmy Nguyen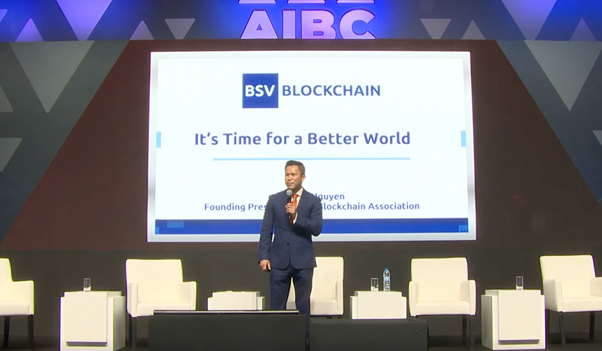 On the first day of the event, the BSV-related presentations began with a keynote address by Jimmy Nguyen, Founding President at BSV Blockchain Association.
Nguyen started his keynote speech by speaking about the importance of time-stamped records across human civilisation and how the BSV blockchain offers a way for the Internet and the world to evolve its record-keeping to become more secure, reliable and publicly auditable.
He explained how the idea of published digital timestamping forms the foundation of blockchain technology.
'That's what Bitcoin and blockchain does: it's a record of transactions recorded by date and time that allows a more efficient transfer of money value without someone in the middle controlling the information. That's all a blockchain is – a distributed timestamp server,' he said.
All major blockchain protocols are based on this foundational idea of digital timestamping, but the BSV blockchain can unleash this power even more due to its unbounded scaling enabled by larger block sizes and ultra-low transaction fees. Nguyen explained how the BSV network will soon be capable of processing 50,000 to 100,000 transactions per second – more than the Visa payment network.
'And we're going even bigger because we want the time power of the BSV blockchain to power not just payments, but all of the digital interactions of our lives from connected devices like our phones, our cars and our smart homes,' Nguyen said.
Better payments and fintech with BSV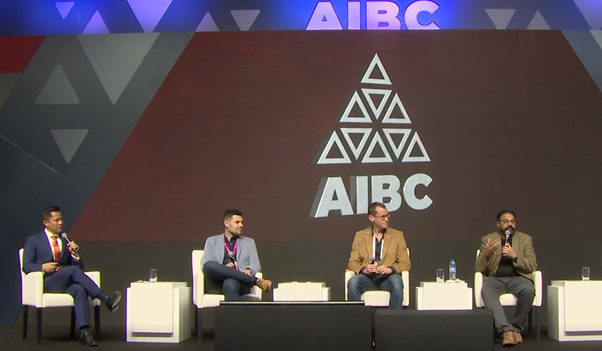 Nguyen remained on stage to chair a panel discussion on how the BSV blockchain can enable better payments and fintech solutions, featuring the following speakers:
Muhammad Salman Anjum – Chief Mate, InvoiceMate and Head of the BSV Hub in MENA
Alex Agut – CEO, HandCash
Daniel Lipshitz – CEO, GAP600
The panellists began by introducing the applications and services they are building on the BSV blockchain, speaking about how they can deliver real business cases thanks to the micropayment capabilities, low transaction fees and high throughput of the BSV blockchain.
'The infrastructural design of BSV has far better capabilities of scaling and stability than anything else we've seen in the market, and if you're interested in supporting global adoption and building products, scaling and stability are of critical importance,' Lipshitz said.
Agut echoed this statement, stating that his application, HandCash, enables peer-to-peer payments that are almost free due to BSV's low transaction fees. These microtransaction capabilities also enable micropayments, which HandCash offers as an easily integrable solution through its HandCash Connect APK.
The BSV blockchain brings increased efficiency and trust across many aspects of payments and fintech, as demonstrated by InvoiceMate's invoice management solution, powered by BSV.
Anjum explained how InvoiceMate's offering is structured around a 'know-your-invoice' system, which builds and maintains trust throughout the invoicing process while ensuring traceability and accountability at a fraction of the cost of legacy systems.
Better NFTs and games on BSV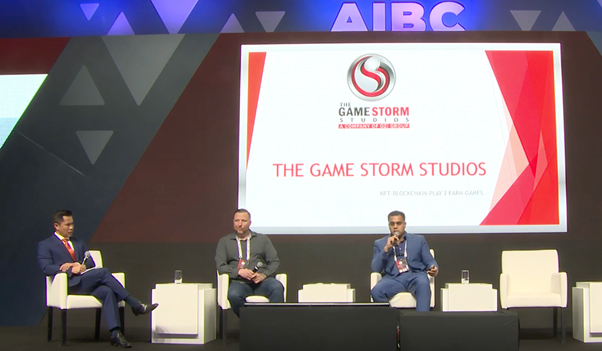 The first day of BSV-related presentations closed off with a final panel discussion on the NFTs and games being built on BSV, also chaired by Jimmy Nguyen.
The panellists were as follows:
Raheel Iqbal – CEO, The Game Storm Studios
Brooklyn Earick – CMO, Rad NFTv
The discussion began with Nguyen delivering a brief introduction to NFTs (non-fungible tokens) and the various platforms offering NFT minting and exchange on the BSV blockchain, before handing over to Earick and Iqbal to explain their NFT and blockchain-based gaming integrations.
Earick explained the idea behind their streaming platform, which is primarily focused on building tools for Web 3.0 video. He explained they began looking into the BSV blockchain because of its ability to scale, mint NFTs and stream video at a much lower cost than protocols like Solana and Ethereum.
'[The costs] are not even close. BSV is not even a penny in most cases,' he said.
The discussion then moved onto blockchain-based gaming, with Nguyen outlining the games which have launched on the BSV blockchain, where all game actions and items are recorded on the public blockchain and linked to players' addresses.
Iqbal then introduced The Gamer Storm Studios, a major video game publisher primarily distributing games through the Google Play Store. He explained that they plan to integrate the BSV blockchain into their NFT-based video games to offer players a play-to-earn model.
'For that, to reduce the price and for fast, reliable transactions we are using BSV blockchain,' Iqbal said.
Day 2 – March 22
Blockchain for the digital transformation of nations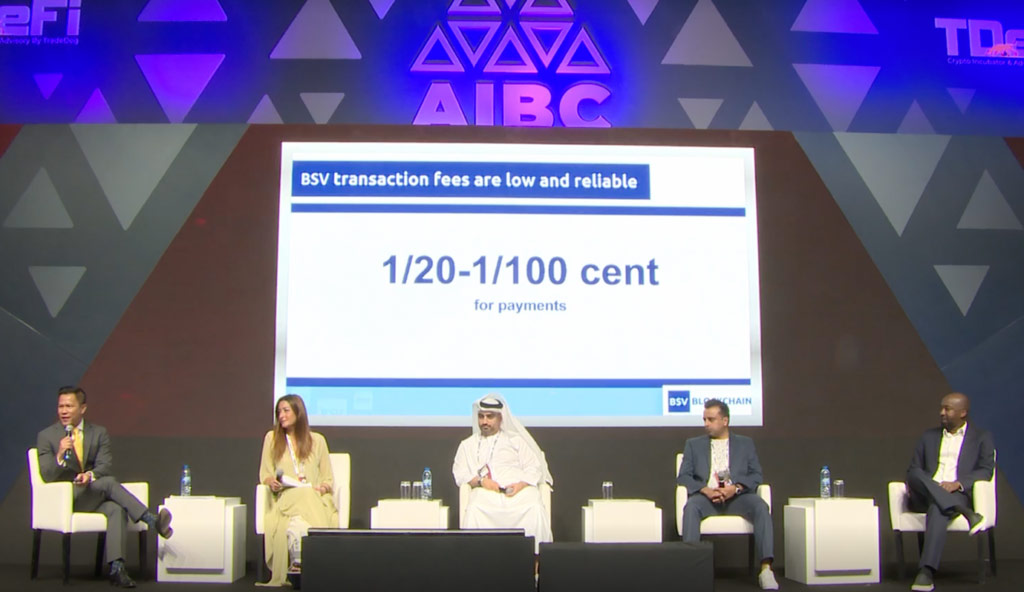 The second day of BSV presentations at the AIBC Summit in Dubai kicked off with a panel discussion on how the BSV blockchain can enable digital transformation for governments and nations around the world.
This session was moderated by Jimmy Nguyen and featured the following panellists:
Dana Al Salem – Global Tech Entrepreneur and innovation Expert
Simit Naik – Commercial and Strategy Director, nChain
Ahmed Yousif – Co-Founder, Black Stone Data Solutions
Saeed Mohammed Ali Alhebsi – Advisor in AI and Senior Project Manager, UAE Ministry of Human Resources and Emiratisation
Nguyen began the discussion by speaking to the panellists about the power of blockchain technology as data infrastructure and how this can enable digital transformation for governments and public-private partnerships.
After a brief round of introductions, Naik spoke about the concept of a CBDC (Central bank digital currency), noting that drivers for this technology vary across the world depending on the state of each country's economy and its financial environment. He spoke about how the BSV blockchain can enable CBDC solutions for these various needs and the work nChain is doing with governments to enable this innovation.
The conversation then shifted towards how blockchain allows inclusion of groups without access to facilities such as land registry filing, identification and bank accounts.
'In terms of payments, 42% of women globally are unbanked. This is also where blockchain can be helpful – they can have a digital ID given to them and smart contracts backing up their ownership of land or assets, and then that also enables them to have bank accounts, so this is something that can help,' said Al Salem.
Panellists also discussed the applications of blockchain technology in the Middle East, with Yousif and Alhebsi weighing in on how the BSV blockchain can enable digital transformation in the UAE, Saudi Arabia and across the world through improving the efficiency of government processes and digitising ministry initiatives.
Identity, metaverse and better communities with blockchain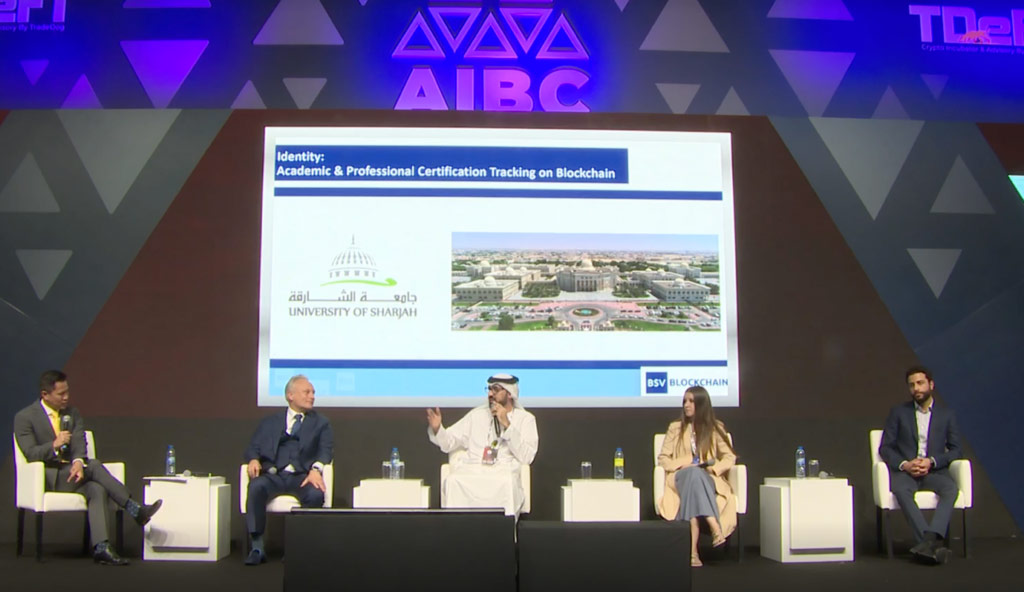 Next up, Nguyen remained on stage to chair a second panel discussion on how the BSV blockchain can deliver innovative and efficient systems for identity management and metaverse applications.
The panel featured the following speakers:
Vasilisa Marinchuk – Founding Member, Centre Blockchain de Catalunya
Dereck Hoogenkamp – Chairman, Yalla Limited and PalmFusion
Jad Wahab – Director of Engineering, BSV Blockchain Association
Dr Mohamed Al Hemairy – TTOC Research Outreach Department, University of Sharjah
Hemairy began the discussion by speaking about a partnership between the University of Sharjah and the BSV Blockchain Association that sees academic credentials being tracked and certified on the BSV blockchain. This helps to verify and provide attestation of legitimate academic credentials while cracking down on fraudulent credentials.
Hoogenkamp then introduced his PalmFusion product, a biometric security solution that verifies the palm of the user's hand and can be used for everything from access control to identity management. This solution can also be used to secure things like your BSV blockchain wallet, removing the need to remember a mnemonic phrase or provide a private key.
The discussion then shifted to identity management and the need to prove the veracity of documents linked to identity, especially when completing KYC processes or verifying health data, with Marinchuk explaining that the human side of the equation must be addressed and people must be provided with greater sovereignty over the sale of their personal data.
On the topic of the metaverse and identity management, and the best platform to drive these solutions, Wahab explained that BSV is by far the best blockchain solution available to offer a comprehensive solution to address these use cases, as it provides a reliable foundation for companies to build on. 'One thing that's unique about BSV is that the protocol is stable, so if you want to build any product or service, you can rely on the base layer being stable, and that way you can focus your time on improving your system and building out new features instead of having to worry about the latest changes being done to the protocol,' Wahab said.