The recent IEEE Summit was co-located with the Smart Cities Week in Rabat, Morocco on May 12, 2022.
The event focussed on the topic of IEEE 5G, IoT & Blockchain, with industry executives, government representatives and industry experts coming together to discuss the shortcomings of communication networks in a 5G-IoT world.
The BSV blockchain's global industry association was a partner for the IEEE Summit, and representatives from the association and those building projects on the BSV blockchain were present to discuss how the BSV blockchain can facilitate a better Internet in a data-driven economy.
The BSV blockchain is the world's only public blockchain capable of scaling to meet the needs of IPv6 implementations thanks to its unbounded scaling capabilities, as well as peer-to-peer structure lending it to IP-to-IP communications.
Speakers at the event included Jimmy Nguyen, Founding President of BSV blockchain's association, Professor Latif Ladid, Founder and President of the IPv6 Forum, and Dr Craig S Wright, Chief Scientist at nChain, who delivered the event's keynote speech.
If you missed out on the IEEE Blockchain Symposium in Rabat, we have summarised the event below.
Welcome and opening
The event kicked off with an opening by Dr. Mohamed Essaaidi, Chair of the IEEE Morocco Blockchain Group, noting that Rabat has been selected as the top Smart City in Africa in the IEEE's third annual Smart City Index, beating Cape Town, Lagos and all others.
IPv6-based 5G – 6G, IoT, Cloud-computing and blockchain – Professor Latif Ladid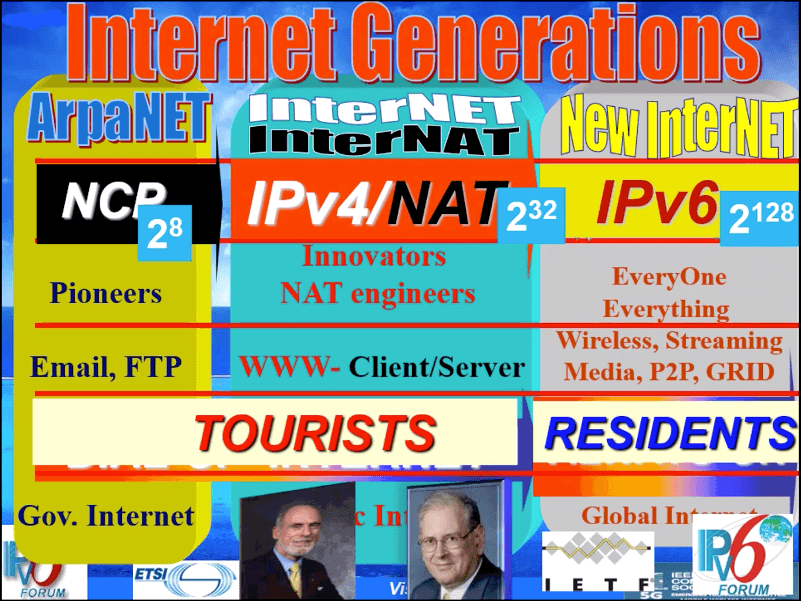 Professor Latif Ladid, President and Co-Founder of the IPv6 Forum, was first in the line-up talking about the history of Internet protocols and drawing conclusions for the current state of the Internet. He discussed the impact IPv6 will have on communication and data transmission by ensuring more efficient and secure communication. This is enabled by its embedded privacy and security features and the ability to directly connect to other devices without an intermediary or NAT.
For Ladid, the current Internet is deficient in many ways and the switch to an Internet that is solely based on IPv6 can tackle these deficiencies – especially when pairing it with a scalable and secure blockchain like the BSV blockchain.
BSV blockchain and IPv6 – Dr Craig S Wright
Next up, Dr Craig S Wright, the creator of the Bitcoin protocol, spoke about Bitcoin Satoshi Vision and the Internet of Things, illustrating the intersection between his peer-to-peer protocol and IPv6.
Wright distanced Bitcoin from cryptocurrencies from the get go, highlighting Bitcoin's uniqueness as the first traceable (private, not anonymous) system of digital money. He added that his first release of Bitcoin was based on IPv6, including IP to IP transactions.
Given the BSV blockchain's faithfulness to the original Bitcoin protocol, Wright nominates it as the only blockchain that can scale sufficiently to serve as infrastructure for IPv6. This new blockchain-based model of Internet commerce will be one where records are immutable, cannot be lost, and allows parties to trade securely and privately.
BSV blockchain – scaling big for a better Internet and a new world of data – Jimmy Nguyen
Next up, Jimmy Nguyen, Founding President of the BSV Blockchain Association, took the stage to speak about the Satoshi Vision of Bitcoin and what it means for the Internet and IPv6.
Nguyen illustrated the link between Bitcoin and the Internet by referring to the 402 error code that was introduced to HTTP in the early years and labeled for future use: 'Error: Payment required'. While the Internet has never managed to implement a native payment system, the Bitcoin protocol managed to fill the gap by fusing data and value into a single transaction that can be sent electronically from one party to another, without the need for a payment intermediary like a credit card issuer.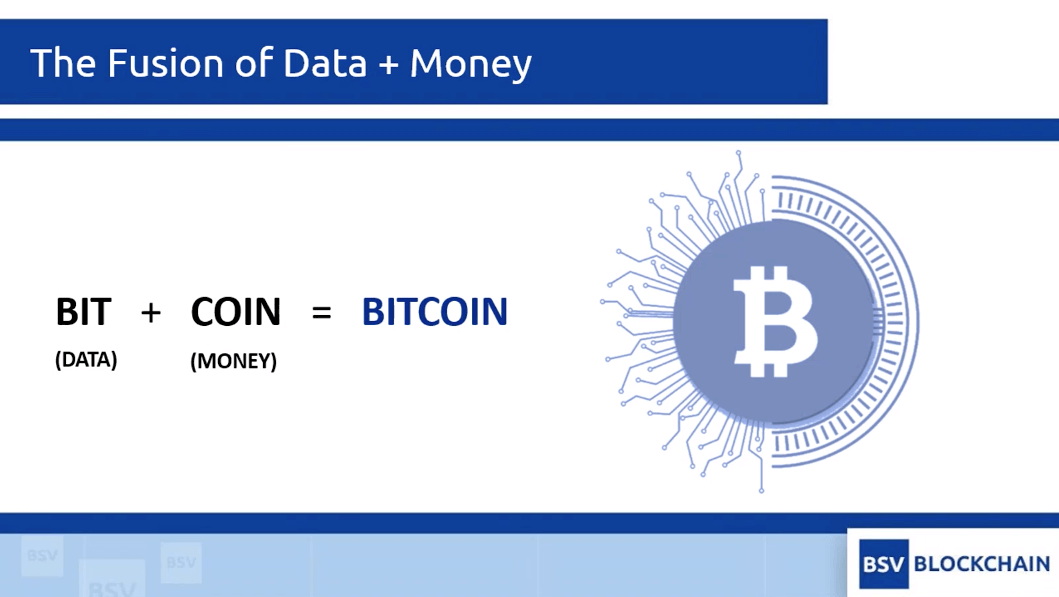 Nguyen showed that the BSV blockchain follows this original design with the goal of, not only resolving peer-to-peer electronic payments, but to power an entirely new distributed data network.
Making the link with IPv6, Nguyen described how the BSV blockchain's design and technical capabilities, particularly its unbounded scalability, is a perfect match for the requirements of an IPv6 infrastructure.
The challenges of 5G for Connected and Automated Mobility – Dr Jorge Pereira
Principal Officer at the European Commission, Jorge Pereira was up next, introducing the EU's 5G action plan focussed on trials which started in 2018 with the goal of achieving pervasive coverage by 2025 and full coverage by 2030 to enable Connected and Automated Mobility (CAM) that will increase levels of automation and ensure seamless services across Europe and other borders.
Pereira listed the main challenges that cross-border connectivity aims to solve, namely a lack of connectivity in rural areas and the need for real-time CAM.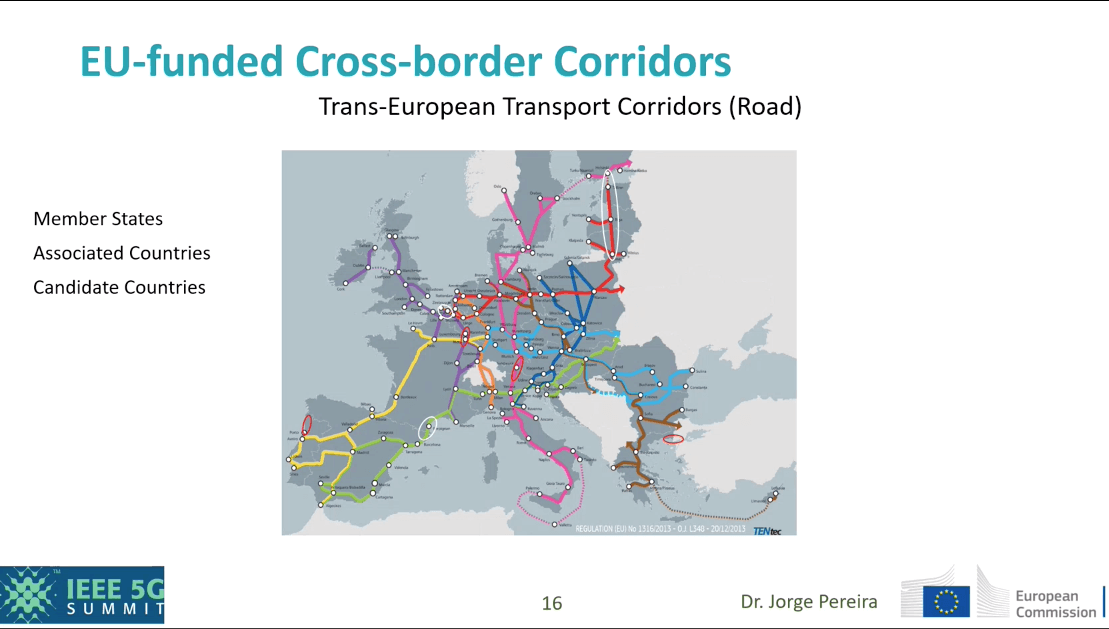 To address these, the EU launched several projects in 2018 with funding of €63 million focussed on the Brenner corridor that links Germany to Austria to Italy, the French-Luxembourg-Germany triangle, and the 5G-MoBiX corridor – which covers a total of 1,000 km of highways and crosses 8 borders.
In 2020, a second batch of projects was funded with €31 million with a focus on automotive and rail routes that cross borders, including the Belgium-Netherlands corridor, the Baltic corridor and the Spain-France corridor.
Apart from these, the EU has invested around €150 million in other CAM-related research projects.
By pointing to the €670 billion of goods that have to be transported via Trans-European transport corridors every month, Pereira justified the importance of investing in these projects for their vital role in the economy.
Pereira categorises the main challenges in achieving CAM as market related (investment and business models), non-technical challenges (regulation, spectrum and coordination of assignments) and technical challenges (coverage, latency, continuity of service).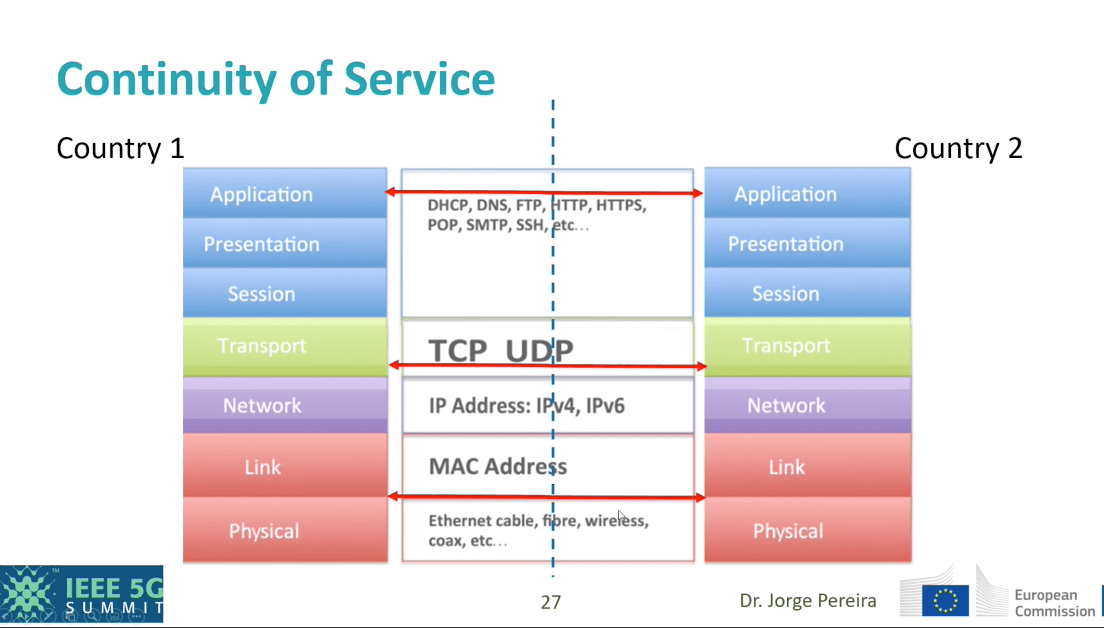 Focussing particularly on the challenge of continuity of service, he points out the valuable role that IPv6 can play.
Food supply chain – Demeter project – Dr Srdjan Krco
CEO of DuvaNet, Vice President of IoT Forum, Dr Srdjan Krco introduced Demeter, an agrifood chain project by DunavNET.
Starting off, Dr Krco introduced the challenges of the agrifood sector, such as population growth at a time of urbanisation and environmental impact, that can only be addressed with technology. He noted that adoption of useful technologies cannot happen overnight, and will require extended periods of multiple interventions with the buy-in of all stakeholders in the supply chain.
Dr Krco pointed out that several of the European Commission's 2030 targets are impossible to achieve without the use of technology; reducing the use of pesticides by 50%, combatting the build-up of excess nutrients in soil, preventing antimicrobial resistance and promoting organic farming.
Funded by the European Commission, the Demeter project has the goal to promote and validate interoperability between the different smart agricultural solutions to easily share data and reuse features.
With 30 pilots from Ireland all the way to Georgia, projects focus on a variety of sectors and climatic zones, smart technology is essential to move towards sustainability. Of all the technical enablers required, Dr Krco notes that the Agricultural Information Model is the most widely adopted.
Referencing use cases where IoT devices are used to monitor environmental factors and operational procedures in vineyards and poultry farms to calculate and warn farmers of the risk of outbreaks, Dr Krco illustrated how smart systems can improve the wellbeing of crops and farm animals while reducing manual labour.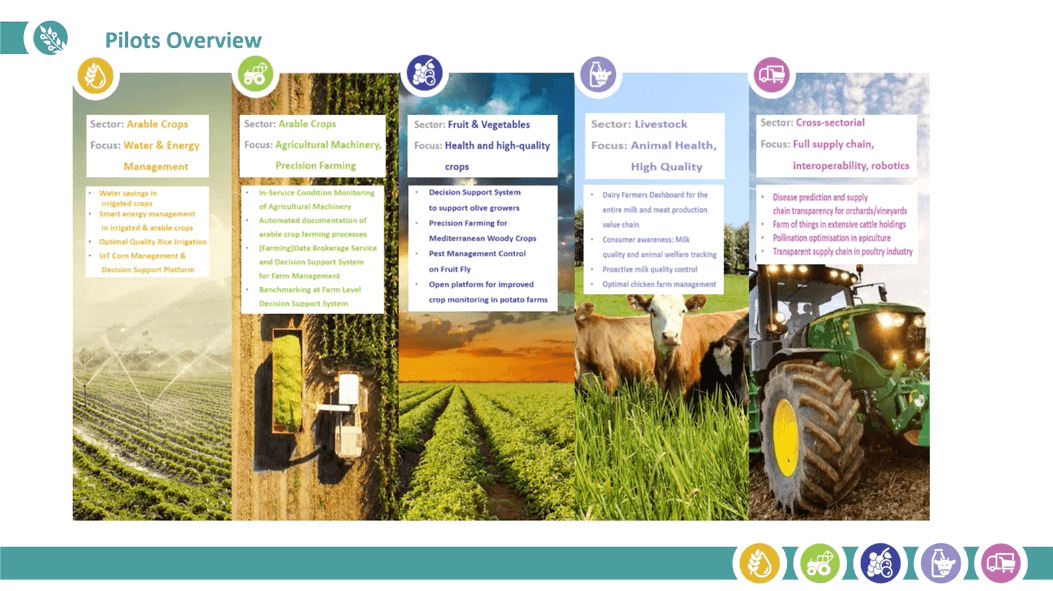 Providing transparency across the Agrifood supply chain to all stakeholders is one of Demeter's main goals, but several challenges have to be overcome, including identifying the information of interest to stakeholders, summarising this large amount of data into a format that's easy to understand and action and ensuring the immutability of this data.
Demeter's approach to tackling these challenges entails integrating datasets from multiple stakeholders in the Decentralised Knowledge Graph, providing integrity with verifiable graph claims on blockchain and enabling semantic querying interfaces for data and integrity proofs.
5G European and world landscape and perspectives – Mr Jean-Pierre Bienamé
Chairman of Ubiquity Consulting, Jean-Pierre Bienaimé took to the stage to report on the progress of the European Commission's 5G Action Plan through the 5G PPP (Public, Private Partnership) project.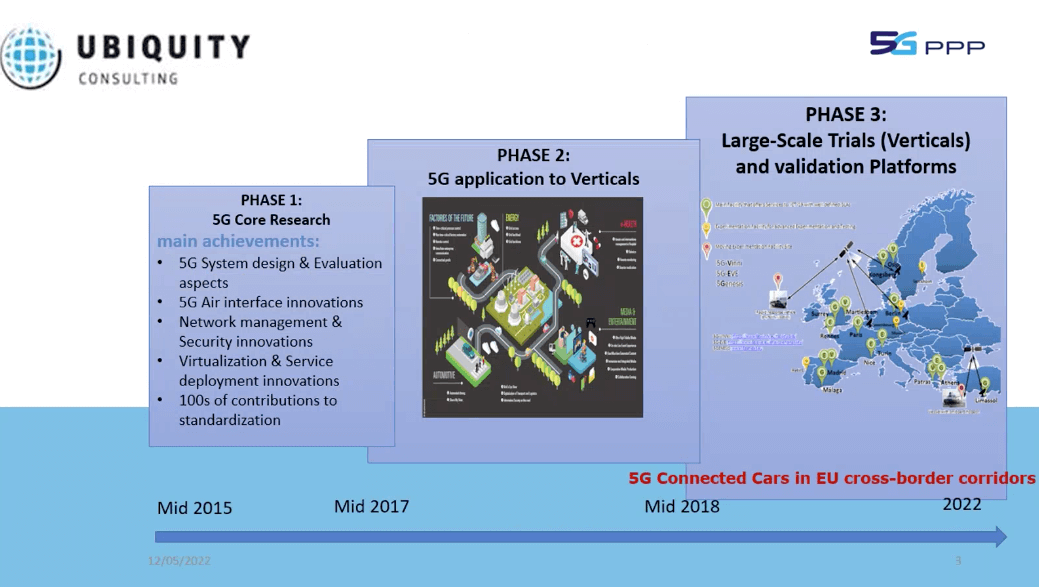 In the current phase, the project's focus is on empowering vertical industries – from Energy, Automotive, Media and Entertainment to eHealth – through 5 Networks.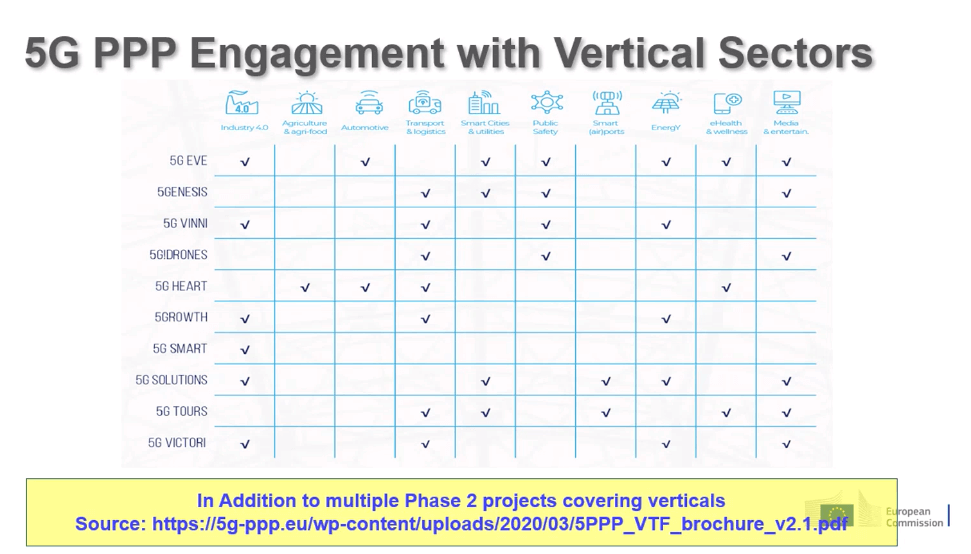 Bienamé reported on the 5G functionalities and applications that the various sectors have implemented.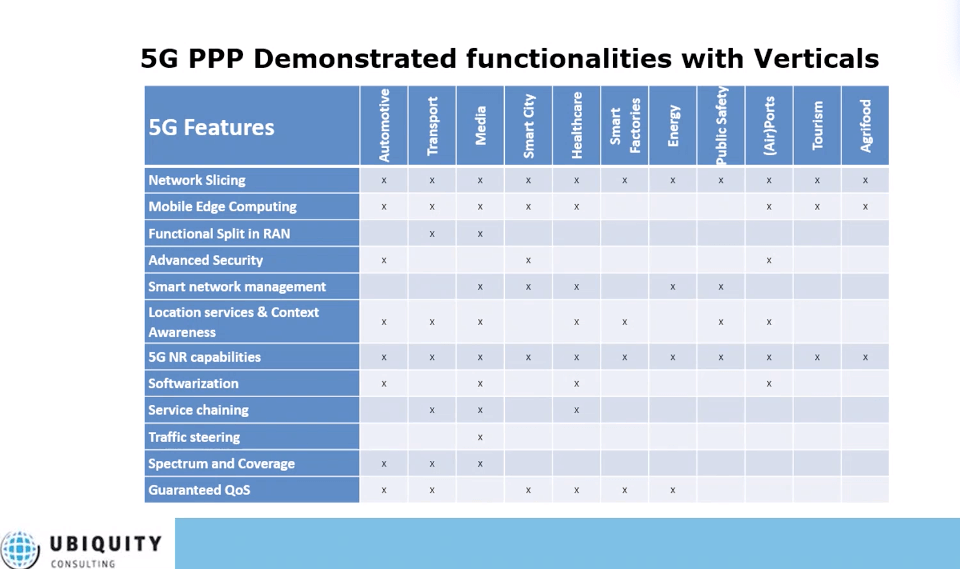 Bienamé identified the most promising applications as safer driving initiatives, enhanced logistics, real-time health applications, applications for the fourth industrial revolution and preventative agriculture.
To summarise, he sketches a future of 6G where IoT devices are connected to AI agents, which will challenge humanity to develop an ethical response to this new world.
Blockchain vs blockmatrix – Rick Kuhn
Computer Scientist in the Computer Security Division at NIST, Rick Kuhn spoke about an additional form of distributed ledger technology and its implementation in Hyperledger Fabric. Kuhn begins by introducing a data structure called data block matrix that provides integrity protection of blockchain, but allows controlled edits for privacy and corrections.
This blockmatrix is designed as a component for distributed database solutions, as an alternative to blockchain or to implement in conjunction with blockchain. The product's release date is set for July 2022, and will come with drop-in compatibility with Hyperledger Fabric.
While the inability to change or delete data from the blockchain is by design, Kuhn sees the need for mutability within specific applications, for example those that fall under GDPR that any personal information must be deletable at the request of the user.
Kuhn's Datablock matrix uses two hash values per block instead of a linked chain, has open source components available in Java and Go with its Hyperledger component implementation set for release in July 2022. The matrix also has a property called 'verified time' which is an alternative to blockchain's timestamps.
The third Internet – Lawrence Hughes
Expert in IPv6 and PKI and IPv6 Hall of Famer (2019), Lawrence Hughes opened by explaining what's new and different about IPv6, the most important of which is the 128-bit address length, which allows trillions of trillions of IP addresses (IPv4 ran out in 2011). Hughes described how, in the mid 1990's, while IPv4 was deployed, it required the deployment of Network Address Translation (NAT) and RFC 1918 Private Addresses. This broke the monolithic address space of the early IPv4 Internet.
Today, most people have the equivalent of an internal extension in a business telephone system like x101. On a network, that would be the private IPv4 address behind NAT, such as 10.xxx, 172.16xxx or 192.168xxx.
Such nodes can only make outgoing connections to nodes with public IP addresses, most of which are now owned by telcos, ISPs and cloud providers. To do things like email, file transfer, chat or VoIP, Hughes explained that you must deploy an intermediary server with a public IP address and the user has to have an account with a public service provider. As a result, nodes outside your local subnet cannot connect to your node.
Hughes then delved into the pains of ample public IP addresses, including the inadequacy of DNS for IP discovery, the complication of mobile devices that change IP address as they move around and the lack of a secure way to register or update your IP address in DNS.
These pains demand a new protocol, Hughes suggests that a new secure IP address registry be built as a replacement for DNS. Such a registry can be secured with TLS (formerly known as SSL) and Strong Client Authentication, to enable people to register any globally unique identifier from your email address to your mobile phone number, your IP address and even your digital certificate.
To close, Hughes asked whether blockchain servers could be suitable to undergird this system, and invited interested developers to get in touch if they wished to pursue the opportunity.
The Blockchain/DLT Standardisation Landscape – Dr Ramesh Ramadoss
The IEE Blockchain Initiative Co-Chair, Dr Ramesh Ramadoss, opened his talk by presenting the IEEE's approach to blockchain standardisation. The IEEE Standards Association oversees more than 1500 projects and standards. It consists of more than 340 corporate members and more than 7500 individual members. Worldwide, it has achieved more than 180 global agreements with the standards it's working on.
Dr Ramadoss outlined the work of the Standards Association and pointed to their goals and standards they've developed in the arena of blockchain. He highlighted that there are vertical (Energy, IoT, Healthcare, FinTech, Cryptocurrency, Digital Asset) and horizontal (Data Format/Management, Interoperability, Governance, Identity, Smart Contracts) dimensions to developing a standard. These are organised in different working groups to develop standards for the mentioned topics and use-cases.
Nex, Dr Ramadoss presented the landscape of blockchain and DLT standardisation the way he sees it. The IEEE is one of many organisations which can be grouped into four different categories. These are 1) Standards Development Organisations (SDOs) to which IEEE belongs itself, 2) Open Standards Organisations, 3) Industry & Trade Organisations and finally 4) Open Source Communities.
In the last part of his presentation, Dr Ramadoss estimated blockchain technology's position in the innovation life cycle. He presented the innovations in this field in terms of a timeline, starting in 2009 with the creation of Bitcoin, with highlights of DAOs, ICOs and DeFi & NFTs between 2015 to 2018, with blockchain games and the Metaverse as the most recent innovations.
Supply food chain real life application – Daniel Jones
Daniel Jones is the Founder and CEO of Bext360. In his talk, he presented the work and the benefits of his company. Bext360 is a SaaS-platform that allows companies to work with a blockchain. The company itself is blockchain-agnostic and allows their partners to integrate blockchains into their supply chain.
Bext360 addresses pain points such as fraud, working conditions and sustainability. Currently, there is a lack of transparency when it comes to these problems. According to Jones, there is a wide rift between the preferences of consumers and the information companies can provide about their products. 95% of consumers would like to make more sustainable consumption choices while companies cover only 7% of info about their supply chains.
Bext360 addresses this by making a product traceable, in the context of agriculture, from the day a plant is seeded to the day it is harvested, transported and until it reaches retail. This does not only concern any data about the product but also about the wages of the farmers, carbon-credits and the nutrient content of a harvested batch of e.g. asparagus.
Key for Bext360's work is the process of data collection. Jones describes how IoT-devices and a proprietary Android-application are used to collect data and store them in a blockchain of choice.
Attend a BSV blockchain event near you
The Association for the BSV blockchain is the global industry organisation that supports the BSV blockchain. To see similar events in your geographic location, head over to our events page.