The IEEE Blockchain Symposium was hosted by the IEEE UAE Blockchain Group on March 9, 2022 at the University of Dubai, UAE. The event saw industry executives, government representatives and blockchain experts coming together to discuss and present use cases and ideas around how to foster best practices and user guidelines for deploying blockchain solutions in the United Arab Emirates and across the world.
The BSV blockchain's global industry association was a partner for the IEEE UAE Blockchain Symposium, and representatives from the association and those building projects on the BSV blockchain were present to discuss the potential applications of this technology in the region. The BSV blockchain is the world's only public blockchain capable of scaling to meet the needs of government and enterprise thanks to its low transaction fees, high data throughput and stable protocol.
Speakers at the event included Dr Eesa Bastaki, President at the University of Dubai and co-Chair of the IEEE UAE Blockchain Group; Jimmy Nguyen, Founding President of BSV blockchain's association; Professor Latif Ladid, Founder and President of the IPv6 Forum; and Dr Craig S Wright, Chief Scientist at nChain, who delivered the event's keynote speech.
If you missed out on the IEEE Blockchain Symposium in Dubai, we have summarised the event below.
Welcome and Opening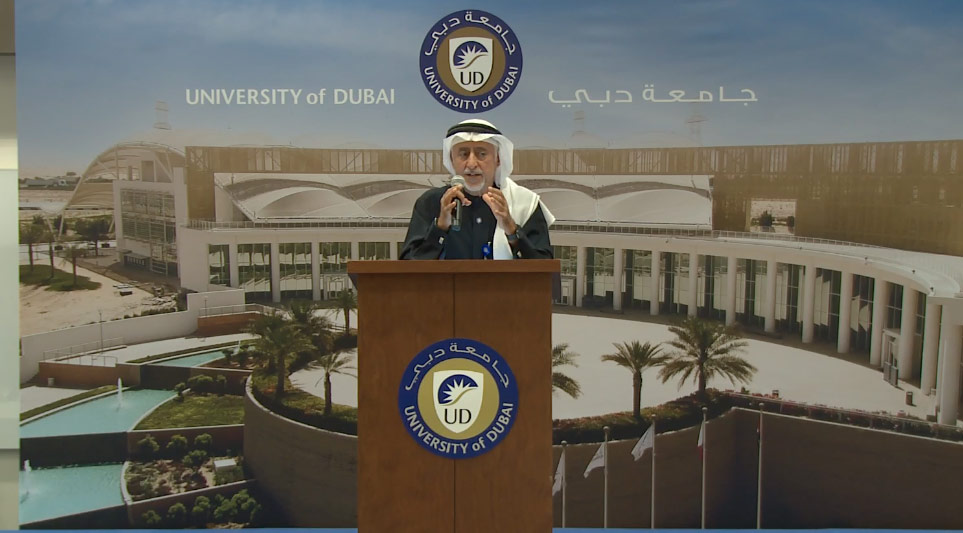 The event began with a welcome address by Dr Eesa Bastaki, President at the University of Dubai and co-Chair of the IEEE UAE Blockchain Group. Dr Eesa began by defining the concept of blockchain technology and how it can revolutionise the traditional Internet model.
He also spoke about the evolution of communications technology and the development of new technologies in the digital age, noting how communications technology is the foundation of technological growth.
Dr Eesa announced that the University of Dubai has implemented a blockchain-based solution for writing academic credentials to a digital ledger, ensuring these can be certified and verified easily and efficiently.
He was followed by Dr Saeed Al Dhaheri, Director of the Centre of Future Studies at the University of Dubai and co-Chair of the IEEE UAE Blockchain Group. Dr Saeed spoke about the establishment of the IEEE UAE Blockchain Group and its aim of improving adoption and standardisation of blockchain technology in the UAE.
'I believe that UAE is a regional hub for blockchain use cases and has made good progress in adopting and developing blockchain applications,' he said.
'The UAE has piloted and launched many blockchain projects exploring innovative use cases in different sectors, from transportation, to health, to municipal use cases, to education.'
BSV blockchain and IPv6 – Dr Craig S Wright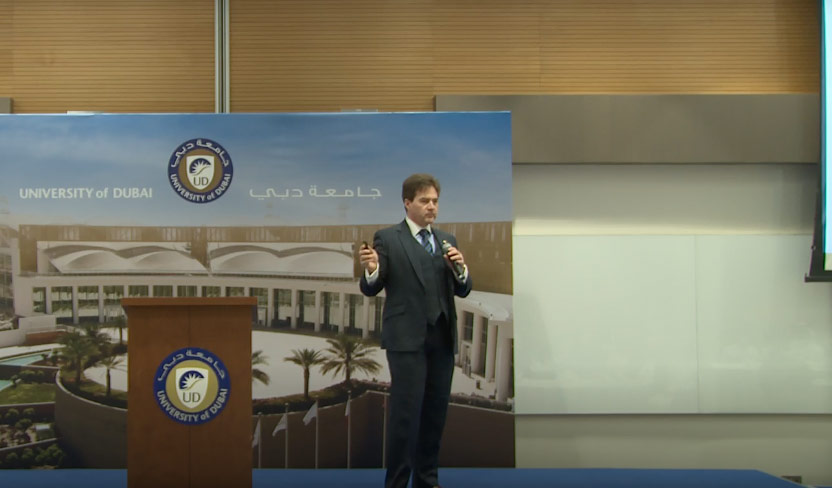 The first speech on the agenda was a keynote address by Dr Craig S Wright, Chief Scientist at nChain. His address explored the need to roll out global adoption of IPv6 and how this can be integrated with the BSV blockchain to allow true peer-to-peer communication without the need for an intermediary.
'IPv6 is essential because we need scalability. Right now, we have something like 30 billion machines that aren't connected properly to the Internet. In the next few years, we are going to have over 100 billion machines and IPv4 with 4 billion IP addresses, of which two-thirds are not usable – never going to happen.'
Dr Wright argued that using the BSV blockchain as a base infrastructure layer, applications built on top of this can facilitate microtransaction easily and securely while bring enhanced privacy to the IPv6 protocol.
'With IPv6 jumbo blocks and Bitcoin payment channels, we have a path to an on-demand Internet of value, one that can serve people on any income and anywhere in the world while protecting their privacy. This has always been the vision, and we are on the cusp of realising the empowerment such a system will provide to individuals. Scale means everything.'
Other topics covered in Dr Wright's address included the potential of integrating the BSV blockchain with 5G, IoT, identity and supply chain management.
IPv6-based 5G, 6G, IoT and blockchain – Professor Latif Ladid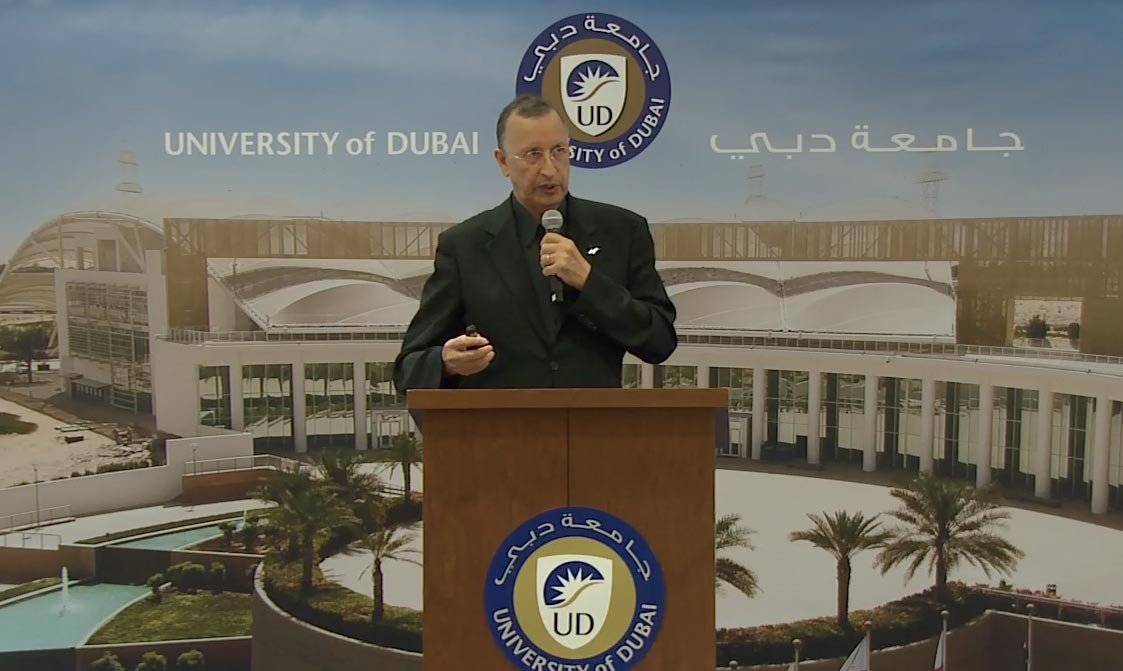 Following Dr Wright's keynoted address, Professor Latif Ladid took the stage to speak about how the IPv6 Forum was created and the ways the adoption of this protocol can improve Internet communication around the world.
He spoke about how IPv6 ensures more efficient and secure communication thanks to its embedded privacy and security features and the ability to directly address other devices without an intermediary or NAT.
'The end-to-end model is really fundamental in order to create the big innovations we have ahead of us, and all of them are going to happen based on the various devices we are going to see in front of us,' Professor Ladid said.
He noted that IPv6 had reach 45% global penetration, which he said would help adoption of the protocol reach critical mass and result in growing adoption of this new protocol and its innovative functionality around the world.
Professor Ladid's presentation went on to explore the ways IPv6 can enable new functionality and more efficient communications within the realms of 5G and 6G telecommunications, the Internet of Things and blockchain transactions.
Academic qualifications on the blockchain – Abdulqader Obaid Ali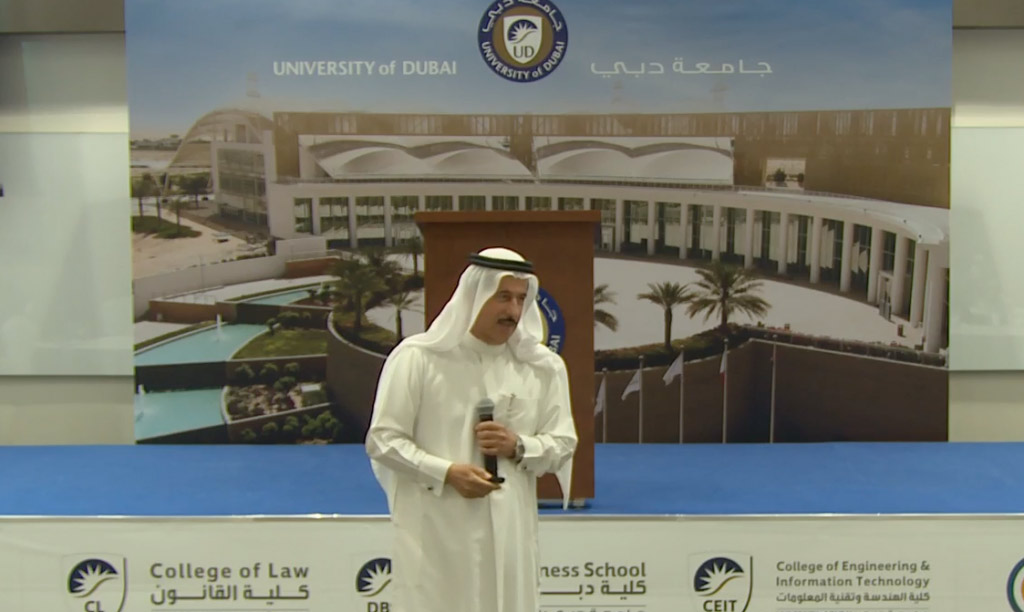 Next up was Abdulqader Obaid Ali, Chief Executive Officer at SmartWorld, who spoke about the challenge of university degree attestation, explaining how there are real cases of candidates with legitimate qualifications who cannot have their degrees attested.
Additionally, there are many people with illegitimate degrees, whether from fraudulent universities or misrepresented, making the problem of attestation all the more relevant.
'We have a genuine problem, almost 20% of degrees are actually fake,' he said.
Abdulqader noted this was a challenge which blockchain technology was best positioned to solve thanks to its immutable and auditable record. As a result, SmartWorld developed a platform to write and store credentials on the blockchain, ensuring their security and verifiability to solve this attestation problem.
The University of Dubai is already implementing this solution for thousands of its graduates, solving both problems of inefficient attestation and fraudulent credentials with a single solution.
The implications of blockchain and emerging tech – Dr Hoda Al Khzaimi
Next was a remote video presentation by Dr Hoda Al Khzaimi, Director of the Centre of Cyber Security at New York University Abu Dhabi.
Dr Hoda's presentation focused on the implications of these new technologies and how they should be considered from a trust and security standpoint.
She noted how emerging technologies such as artificial intelligence, IoT and blockchain were fuelling rapid growth in the value of the technology industry and the pressure to provide next-generation computation and automation devices.
'We should remember something that is very important. These algorithms are not new – they are a celebration of a continuum of work that happened in the last 20 years, and in their hearts, they are based on existing encryption types and hashing algorithms. These are not 100% secure; they do have other aspects of attack that exist on the platform.'
She then went on to examine the different types of attacks that can be conducted against a blockchain network and its users, noting that there are many ways for an unsecure network protocol to be compromised by proficient attackers and stressing that security and trust in these systems should be ensured as best as possible.
Device identity management on permissioned blockchain – Dr Anang Amin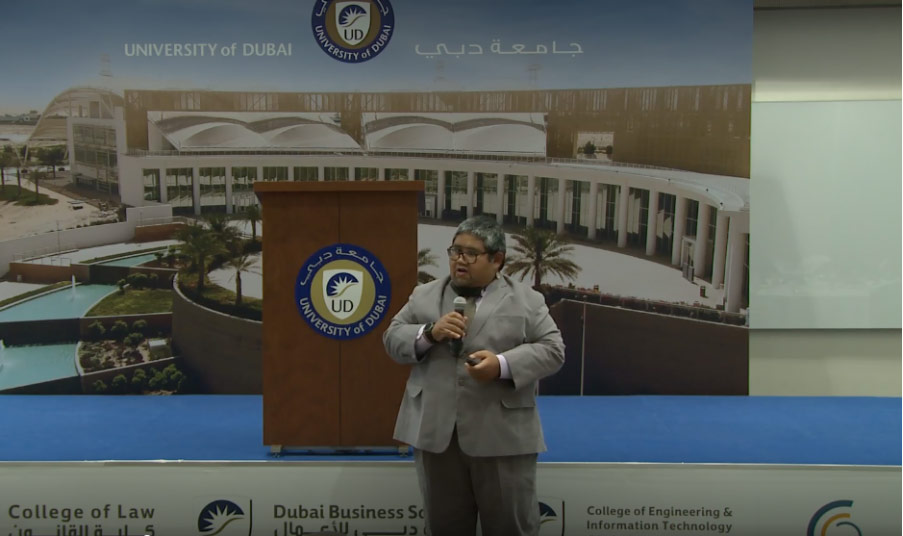 The next speaker was Dr Anang Amin, Assistant Professor at the Higher Colleges of Technology, Dubai. Dr Anang's presentation centred around the concept of permissioned blockchain systems and how they were researching a device identity management solution built on this type of platform.
He began by introducing the work he is involved in, which primarily revolves around managing the identities of many connected IoT devices within a distributed network.
'Distributed IoT is about how these devices are communicating, exchanging data and doing the task they have been assigned to,' he explained, adding that his research was looking into managing this communication through a combination of cloud integration and a permissioned digital ledger.
A distributed IoT network has a number of advantages, Dr Anang explained, one of the most important being that of scalability and the ability to handle far more devices than a traditional centralised platform. The management of device identity on a distributed and credentialed network can also aid in improving security and protecting against denial-of-service attacks, he added.
Building a better Internet with BSV – Jimmy Nguyen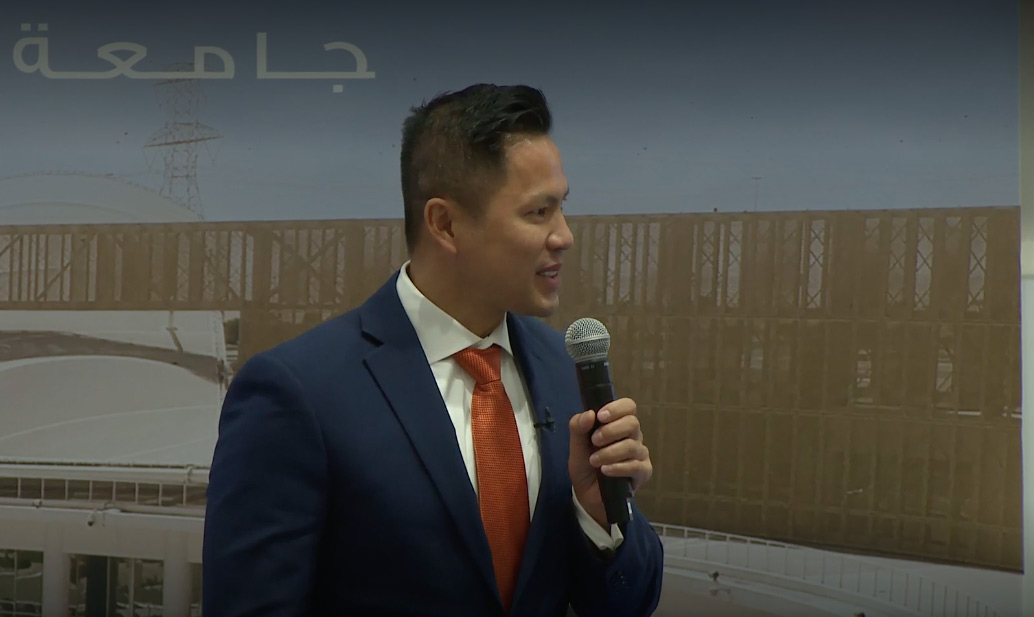 Jimmy Nguyen, Founding President of the BSV blockchain's association took the stage next to speak about how we can build a better Internet using BSV.
He began by speaking about the early plans to create a payment layer over the Internet Protocol and how this was never realised. However, it was for this reason that Bitcoin was created – to deliver a peer-to-peer electronic cash system used to facilitate online payments between Internet users.
'[Bitcoin] was trying to actually solve the whole problem that created because the Internet did not have that native way to send payments,' Nguyen said.
He went on to explain the BSV blockchain and how it is built on this original ideal to deliver a payment and data network protocol that function as the underlying infrastructure for a better Internet.
Nguyen explained how the BSV blockchain is designed to scale unbounded and cater to limitless transaction volume while ensuring transaction fees are kept low and processing speed remains fast. Building on these capabilities, he concluded by exploring some ways that the BSV blockchain can offer a more efficient, user- and enterprise-friendly platform for a better Internet.
After his presentation, Nguyen fielded questions from the audience on the mechanics of the BSV blockchain and how the nuances of its functionality translate to real utility.
Smart Contracts and their applications in 5G and beyond – Tooba Faisal
Following Nguyen's presentation Tooba Faisal, King's College PhD Student and Rapporteur at ETSI Industry Specification Group (ISG) on Permissioned Distributed Ledgers, tuned in to deliver her speech via remote video.
Faisal's session focused on smart contracts and their applications in 5G and beyond, and she began with an introduction to smart contracts in the context of permissioned ledgers.
'Blockchains and distributed ledgers are immutable – you write a record and you cannot delete that record. When you install a smart contract on the blockchain… you cannot change it and when the condition is met it will be executed without any human intervention,' she explained.
Faisal then moved on to explore the security challenges around smart contracts written to the blockchain, which include being visible to unintended parties due to the transparent nature of the on-chain code.
Other challenges stem from the immutable and auto-executable properties of smart contracts, which means any errors or vulnerabilities will be impossible to rectify and can be exploited by anyone able to fulfil its conditions.
'It is very important before deployment that the smart contract is checked thoroughly for any errors, problems or mis-programming.'
Blockchain vs blockmatrix and Hyperledger – Rick Kuhn
Next up, Rick Kuhn, a Computer Scientist in the Computer Security Division at the National Institute of Standards and Technology, a division of the US Department of Commerce, delivered a remote video presentation on blockchain technology and a blockmatrix, a variant of distributed ledger technology integrated with Hyperledger that is designed for specific digital ledger applications.
Kuhn explained that a blockmatrix data structure provides the data integrity protection of blockchain technology but allows for controlled edits for privacy and corrections.
'Blockmatrix is a component for distributed database solutions. It is one design option, blockchain is another, and the choice depends on application needs,' he said.
His presentation pointed out perceived challenges with blockchain technology that echoed Faisal's, with Kuhn arguing that the immutability property of blockchain technology makes it difficult to support privacy requirements, such as deleting a consumer's personal data at their request.
The blockchain ecosystem – Dr Ramesh Ramadoss
Another video presentation followed, this one delivered by Dr Ramesh Ramadoss, co-Chair of the IEEE Blockchain Initiative.
Dr Ramadoss focused on the state of the blockchain ecosystem and began by introducing the IEEE Blockchain Initiative – a volunteer- and community-driven organisation aimed at creating standards and interoperability within the blockchain ecosystem.
'We have six published standards set up today, and we have more than 50 standards under development,' he explained.
He defined and explained the implications of three different distributed ledger categories: public-permissionless, public-permissioned and private-permissioned, and spoke about how these definitions relate to current blockchain implementations across the ecosystem.
Dr Ramadoss went on to categorise further aspects of the blockchain ecosystem, including the different types of decentralised applications and the emerging use cases which are expected to drive the digital asset industry's market growth in the next decade.
Blockchain for supply chains – Daniel Jones
The last speaker of the day was Daniel Jones, Founder and CEO at Bext360, who tuned in via video call to deliver a presentation on a real-life application of blockchain technology in the food supply chain industry.
He explained how Bext360 provides accountability for critical supply chains, ensuring that the provenance of products is transparent and auditable from point of production to retail customers.
'We wanted to provide more tools to ensure there is transparency between the operations on the ground and the retail customer, not just to monitor or punish people but to provide the good actors in these supply chains with more resources so they can get the proper price and the credit they deserve for providing those,' he said.
Jones went on to expand on the potential applications of supply chain monitoring on the blockchain, from improving transparency on the retail side to providing auditable and verifiable sustainability data that can be used for certifications.
His presentation closed with a Q&A session where the audience quizzed Jones on how this blockchain-based solution translates to real-life applications and their goals related to tracing sustainability going forward.