A delegation representing BSV blockchain's international association recently completed a trip to the Kingdom of Saudi Arabia, which saw delegates conduct keynote speeches and participate in panel discussions at the LEAP 2022 conference, the world's biggest tech expo debut.
Following the conference, BSV blockchain's association also partnered with ThinkTech, an initiative by the Saudi Arabian Ministry of Communications and Information Technologies, to host a Blockchain for Saudi Vision 2030 Summit in Riyadh, attracting prominent blockchain and industry experts from a variety of sectors, as well as representatives from several companies working in partnership with the Saudi Arabian government across key digital transformation projects.
The delegation representing the BSV blockchain then moved from Riyadh to Jeddah, where they engaged with key stakeholders and prominent government representatives in the area in a series of meeting and information sessions before visiting the city of Makkah to host a BSV Blockchain Summit in partnership with the Wadi Makkah Company.
The BSV Blockchain Seminar was held at the Wadi Makkah Incubator on February 9, 2022 and shared how the BSV blockchain could enable digital transformation initiatives within Makkah and Saudi Arabia. The event was attended by a number of industry and technology experts, from large enterprises and government-led projects to start-ups.
Speakers included Jimmy Nguyen, Founding President of BSV blockchain's association; Simit Naik, Director of Commercial and Strategy at nChain; and Dr Basim Zafar, CEO at Experts Vision Consulting. The discussion aimed to educate attendees on the power of the BSV blockchain's scalable and efficient data network protocol, and how this can deliver exciting new business use cases built on a new data economy.
Below are some of the key highlights from the event:
BSV Blockchain Presentation – Jimmy Nguyen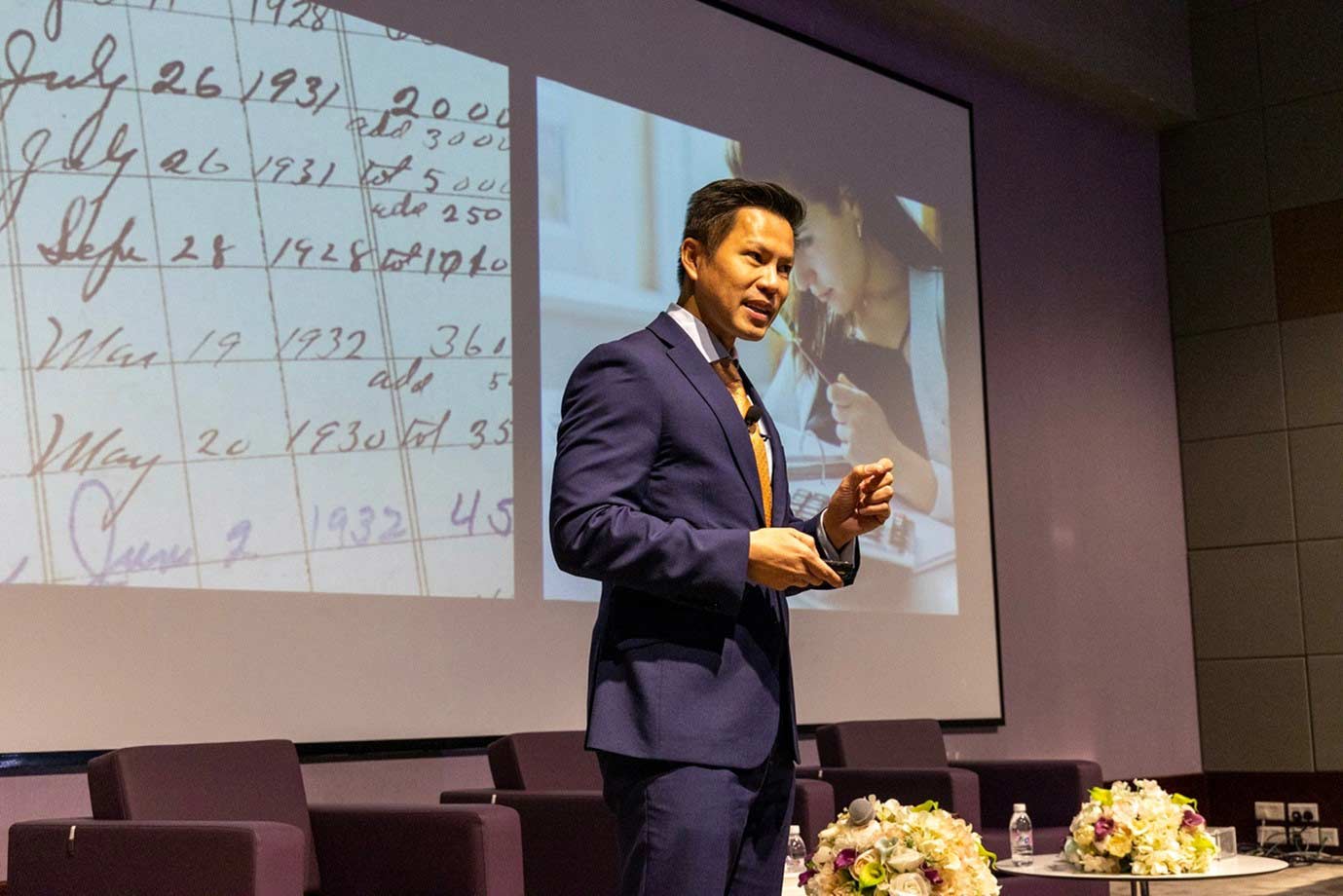 The event began with an introduction by Ahmed Yousif, Middle East lead for the BSV Blockchain for Government initiative and Co-founder at Black Stone Data Solutions, who briefly explained the concept of the BSV blockchain before handing the stage over to Jimmy Nguyen, Founding President of BSV blockchain's association.
Nguyen's presentation introduced the importance of blockchain technology as an evolution of how humanity's method of record-keeping and time-stamped data.
'One thing is very important – the ability of time to provider order to events and truth, such as entries in an accounting ledger. That provides an order to events and it also helps us to reveal truth and detect dishonesty if people are changing information, payments, records, documents that are otherwise marked in time,' he said.
'Bitcoin, blockchain and all other things that are driven by blockchain really are based in time and this is what drives the power of blockchain as a data structure, not for cryptocurrencies but to actually improve things in life.'
His presentation showcased the various potential applications of the BSV blockchain through many examples of businesses building on the platform to deliver revolutionary products across industries. When it comes to Saudi Arabia, Nguyen explained how the adoption of the BSV blockchain could aid in accelerating the country's digital transformation and help to realise 'Saudi Vision 2030'. Nguyen also spoke about the importance of IPv6 adoption and how the BSV blockchain could help facilitate new data networking functionalities around IPv6 thanks to its large block sizes and low-cost, high-throughput transaction processing capabilities.
Q&A Session 1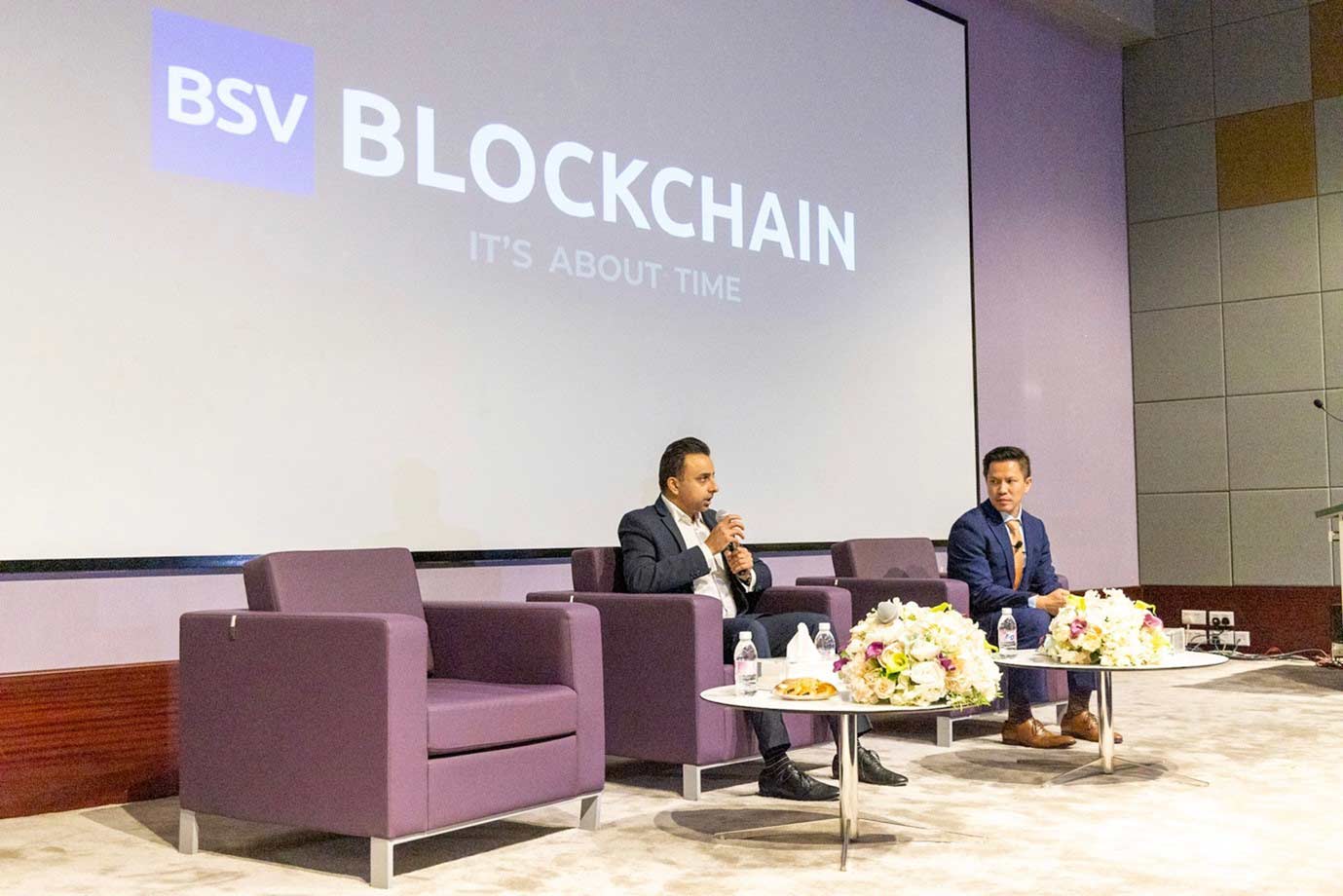 Following his presentation, Nguyen was joined on stage by Simit Naik, Director of Commercial and Strategy at nChain to field quick-fire questions from the audience around the basic concepts of blockchain technology and concerns about its use cases.
The Q&A session began with questions around how data is stored on the public ledger of the BSV blockchain and in which cases it should be made publicly available.
'Not all data belongs on a blockchain. Even though you can put any type of data on a blockchain, we do not recommend every piece of data going on a blockchain. You should only think about using a blockchain for data where there is value in its public accessibility or there is some ability to use micropayments with it,' Nguyen explained, adding that there are techniques to store data off-chain and manage access to that data using credentials and records stored on the blockchain.
'When we think about data and the blockchain, we can put the data on the chain, that's not the problem. But when you are talking about healthcare data and even financial data, we have to make sure we are compliant with the rules around the right to be forgotten and personally identifiable information,' Naik added.
'And so, at nChain, we have two mechanisms for writing data to the chain: we can write the data to the chain if it doesn't identify an individual. Where it does identify the individual, we take a fingerprint of that data and storage on the chain.'
The session also included questions around transaction fees on the BSV blockchain, with Nguyen and Naik explaining how transaction fees for payments can be as low as 1/100th of a US cent and often free, and how larger transactions fees recorded on the BSV network often reflect large file data storage.
Government and the future of blockchain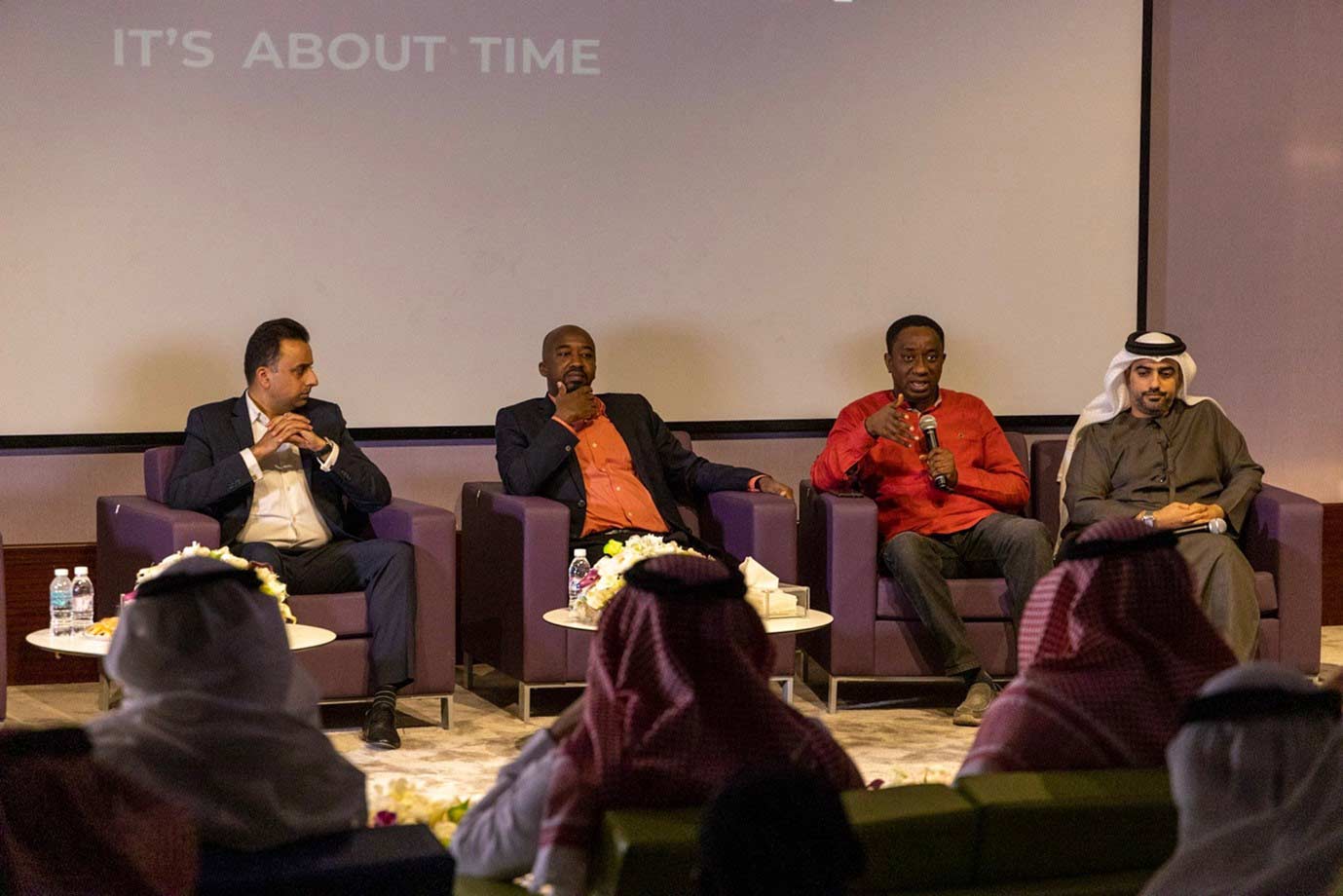 Following the Q&A session, Nguyen and Naik were joined on stage by a number of speakers working within the BSV blockchain ecosystem for a discussion around government applications of blockchain technology and the future of blockchain adoption. The speakers were as follows:
Muhammad Salman Anjum – Chief Mate, InvoiceMate; Head of BSV Hub, MENA/South Asia
Mohammed Ibrahim Jega – Co-Founder & Chief Business Development Officer, Domineum Blockchain Solutions Ltd
Ahmed Yousif – Middle East Lead, BSV Blockchain for Government
Saeed Mohammed Ali Alhebsi – Advisor in AI & Senior Project Manager, UAE Ministry of Human Resources & Emiratisation
Each of the speakers began by introducing the relationship between their projects and the BSV blockchain and demonstrating how integration with blockchain technology can improve data integrity, reliability and accuracy of data. They also discussed the Tuvalu National Digital Ledger project, which exemplifies the advantages of a government adopting blockchain technology to drastically boost its digital transformation.
The discussion also encompassed the various possible use cases of blockchain technology on a civic level, including projects such as vehicle and traffic tracking, smart cities and IoT integration. Speakers noted that leading government-sector use cases for blockchain technology in regions such as Africa are centred around cross-border transactions and financial access.
From central bank digital currency (CBDC) projects to identity digitisation and the creation of paperless governance systems, the potential applications of the BSV blockchain within the sphere of government activity are myriad, and they promise to bring greater efficiency and integrity to the large data repositories relied on by governments.
Q&A Session 2
This discussion was followed by another Q&A session, where the live audience could ask questions to the speakers, both on general blockchain-related topics and on the previous discussion. Jad Wahab, Tech Lead at nChain also joined those already on stage to lend his technical expertise to the Q&A session.
One of the most important topics discussed was the sheer number of blockchain protocols competing for adoption and the problem this raises for governments looking to adopt a blockchain-based system. Nguyen agreed the number of blockchain solutions was a problem, adding that he believed the ecosystem would consolidate in the next few years with interoperability becoming a more central development vertical.
The speakers also addressed the audience's concerns over blockchain's security design and how 'fingerprints' of private data can be stored on the public ledger without exposing that information. These concepts are key principles of the BSV blockchain's design, which makes it unfeasibly difficult and expensive to maliciously interfere with the digital ledger while also recording any malicious action and keeping an accurate record of any attempts to attack the system.
Naik elaborated on this through an explanation of proof-of-work consensus and how this can secure a blockchain against attack by making it impossible to perform double-spend attacks.
'You have to try and incentivise everyone within the system to act in the best manner. So, when we think about blockchains, the best blockchains are the ones that have a very strong incentive mechanism to stop bad behaviour. Proof-of-work is probably the strongest, not only in terms of security but also immutability,' Naik explained.
Conclusion and MoU signing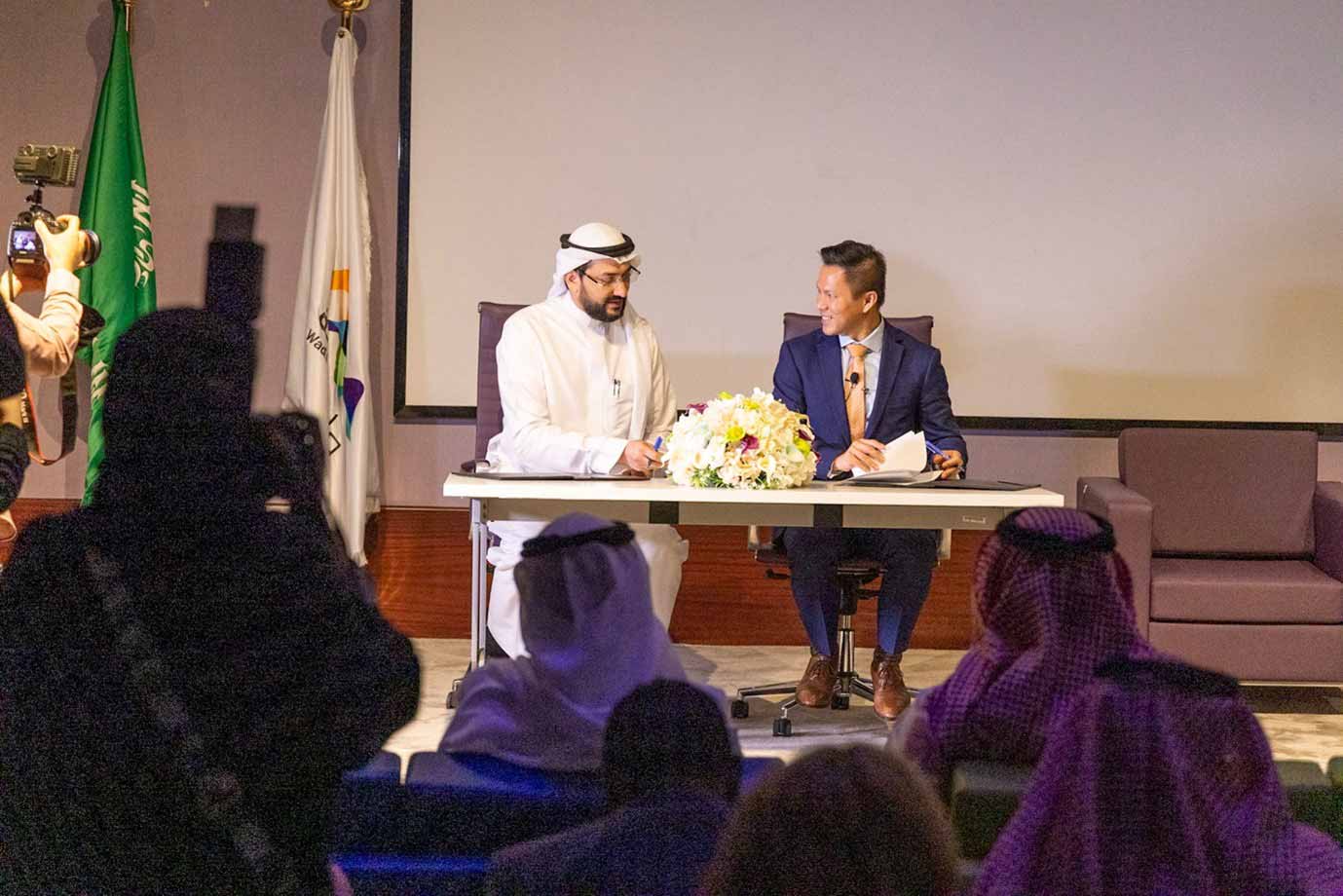 Following the second Q&A session, Dr Basim Zafar, CEO at Experts Vision Consulting delivered a final concluding address that outlined the many possibilities for blockchain integration in the Kingdom of Saudi Arabia.
These potential applications include the unique technical challenges faced by the country, such as the tracking of the millions of tourists which visit its holy sites every year.
After his speech, Ahmed Yousif announced that Dr Zafar and Nguyen would sign a memorandum of understanding to launch the Bstudio venture studio in Saudi Arabia, the first studio in the country focussing on the development of applications and services on the BSV blockchain.
'This will be the first studio that specialises in blockchain with the power of the BSV blockchain, and hopefully this will be the first step in a journey towards metaverse, NFTs and the things that are going to take us into the future,' Yousif said.